Basic Invoice Template
Download invoice template basic by SaldoApps to facilitate your reporting. You can create basic invoices in minutes in Excel, PDF and Word. Just fill out the sample with your company information and send it to your customers!
Create an invoice now
Free downloadable invoice templates
Select the simple blank invoice format you want to use - download, customize, and send it with a single click.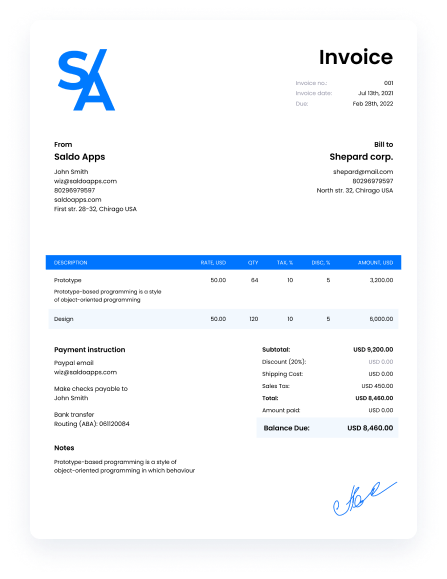 How to Use a Basic Invoice Template?

Primary forms are universal and can be applied for different purposes, regardless of your activity type and tasks performed. Our online invoice creator is the most convenient and fastest way to make such documents. You can work with it on any device suitable for you. It doesn't require scanning, printing, or other outdated paperwork.

If you deal with our service for the first time, open this basic invoicing software on your computer, tablet, or smartphone and sign in. Creation and saving of files are available without registration, but you will have to put your details again. Authorized members only need to provide their personal data and business info at the very beginning. On subsequent use of this app for invoices, it's automatically entered.

Conveniently, there is no need to perform any manual calculations. Even an invoice template basic option estimates the total sum based on the inserted records on your behalf. Preview the finished file for errors and typos, and then choose the blank basic invoice format: PDF, Excel, Word, or another one that suits you. Submit the form to an orderer, share a link, save it to your local library, or print it.

What Is Information Included in the Basic Invoice Sample?

In a sample basic invoice, indicate your business info and a client's contacts. By the way, there is an option to import orderers' contacts from the address book on your smartphone or enter them manually into the Saldo Invoice app. Then, when filling out documents, you should just choose the right person from a list. Optionally, you may attach an image with your logo to make it easier for recipients who handle papers to determine a sender.

After that, list all goods and services you provided, indicate their exact number (or the time spent on their implementation), price per unit, and possible fees. Next, specify a discount (if any) and mark whether an item is taxable. The total sum is calculated automatically. A simple invoice sample assumes an indication of payment methods, shipping data if you offer such an option, and additional notes, recommendations, or tips that will simplify the process of depositing money for customers.

When Is It Best to Fill in Free Basic Invoice?

Our online platform's finest part is that it makes it possible to create a basic invoice at any time and place convenient for you. Of course, the sooner you offer the customer the necessary payment papers, the more likely the money will be credited to your account on schedule. Prepare invoice paperwork in advance, if the specifics of your activity allow, save them, and transfer them to an orderer upon the job completion.

Since a typical invoice form can be filled out on your phone, laptop, PC, or tablet, you may do it right after the work is done or at other terms agreed with a client. As the software memorizes and inserts some details, filling out documents won't take long.
Also you can find more Basic Invoice Templates
Printable Invoice Template

Blank Invoice Template

Hourly Invoice Template

Pro Forma Invoice Template

Services Invoice Template