Google Docs Estimate Template
Create, save and send estimates online with a single click!
Free downloadable Estimate Template Google Docs
Select the template format you want to use - download, customize, and send it with a single click.
Get the template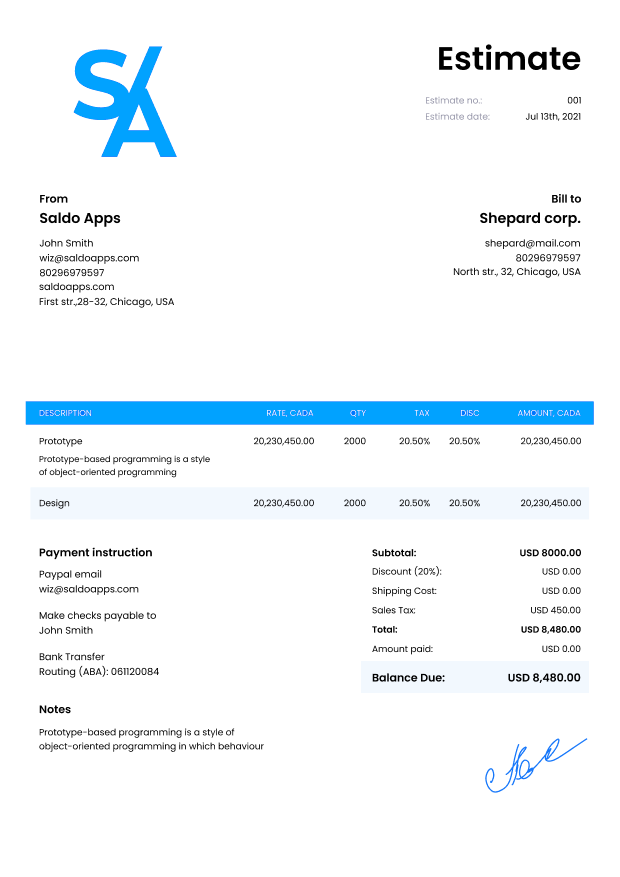 Do you need more Invoice Designs?
Customise your Invoice Template
About our Google Docs Estimate Template

Are you in search of top-level estimate template Google Docs for your business purposes? You're in luck. Saldo Invoice is where you get free access to a huge database of all sorts of niche-specific templates, ready to be filled out and sent online or printed out and used in the offline world. With our invoicing templates, you are guaranteed to speed up your payments and take your professional reputation to new heights.

You still haven't browsed through our free estimate template Google Docs catalog? You're welcome to do it now and find that perfect layout for your needs. Then inject it with your branding, add all the necessary details, and you're ready to go. Whether you're hunting for a Google Docs quote template or any other type- or format- layout, we've got you covered.

Try Google Docs Estimate Template for Your Needs

There's an array of perks when it comes to using invoice or estimate templates, be it Google Docs or any other formats. Here are the major advantages:

maximum efficiency: instead of creating a new document for each client, you'll just change several lines in your existing, uniform template;
speed and lots of free-ed time: you will save tons of your time and thus, get the possibility to invest it in laser-focused money-making efforts;
consistent layout: template uniformity equals consistency — something your clients and partners will love about your approach;
refined accuracy: the less you type, the fewer typos you make; it's that simple;
paperless approach: our platform allows you to fill out estimate templates Word online, no matter where you currently are;
workflow automation: this entire approach is guaranteed to bring speedy results.

Download Estimate Doc Easy With Saldo Invoice

Similar to our invoice and purchase order layouts, we went the extra mile to ensure that our estimate templates are as brilliant as can be:

they are 100% free of charge;

they are fully customizable;

ready for completion here and now;

professionally pre-designed;

containing all the required elements;

featuring all the bells and whistles for crunching numbers, sorting out taxes, and the like.

If you're on a mission to stand out from the crowd of bland, generic invoices and estimates, our platform is right up your street. Good luck money-makin'!
Also you can find more Estimates Templates