Word Quote Template
With our Word quote templates, you can simplify the pain of quote preparation and speed up your company procedures. Our well created templates enforce uniformity and consistency, are automation-friendly, and save you time. Fill in the blanks and let our templates handle the labor-intensive work for you!
Free downloadable Quote Template Word
Select the template format you want to use - download, customize, and send it with a single click.
Download File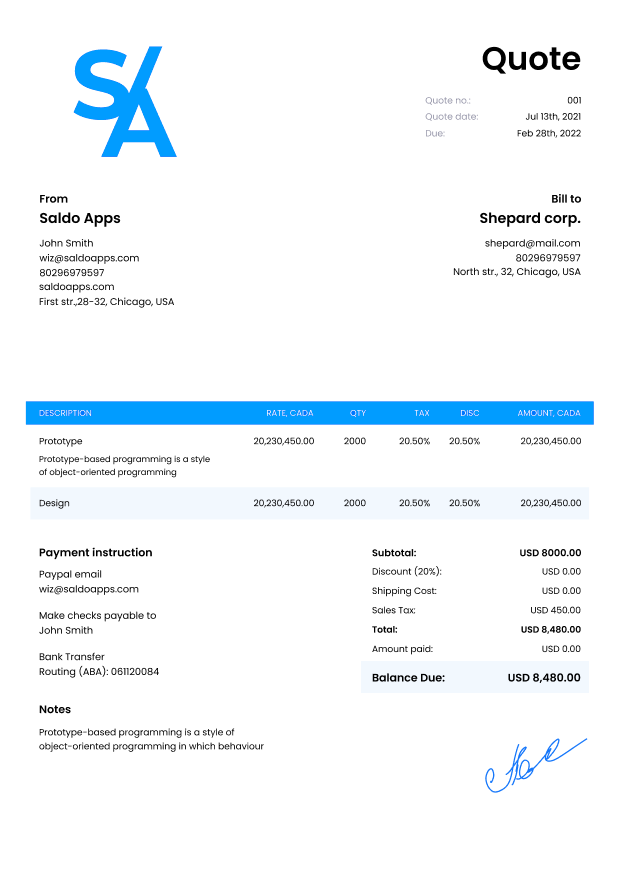 Do you need more Invoice Designs?
Customise your Invoice Template
About our Word Quote Template

A quotation, most frequently shortened to just 'quote', is a business document that itemizes the to-be-provided services and includes the price for them. A quote template is a pre-made format of that same doc that's perfectly adjustable to suit your unique business needs. In the majority of cases, clients have a budget they want to rely upon. The quote informs them of your company's prices, thus simplifying the process of where they'll most likely place their order.

Are you looking for top-notch quote templates in Word or Word purchase order templates?

Saldo Invoice is the answer. In our catalog, you'll find customizable free Word quote template files that are sure to streamline your approach to administrative tasks, save heaps of your time, and allow you to focus on what's really essential i.e., making money.

Why Use Our Word Quote Templates?

Word documents are versatile, a breeze to adjust, and can be easily processed almost on any device. With that in mind, MS Word quote format is among the most popular on the business scene.

Here are some major reasons why our templates are so popular:

they are professionally designed;

they are automation-friendly;

they are exceptionally time-saving;

they enforce quote uniformity and consistency.

With our excellent quote template Word files, you won't need to create a new quote for each new client all over again. Therefore, no more hours invested in formatting your files — because we've already done that for you! In simple terms, templates take the labor-intensive part out of document formatting, leaving you free to fill out the minimal part. With us, your every free template for estimates brims with professionalism.

Download Quote Template for Word Easy With Saldo Invoice

Sending a quote to your potential client is the first step toward stimulating them to work with you. Therefore, sending a clean and professional document is what you should be exceptionally interested in. It's going to influence whether you'll ultimately seal the deal or not. With that said, your quote should contain all the necessary details about the project in question, as well as the price you're charging for it.

Here are some tips on transforming your format quotes in Word into sales:

quote ASAP: clients

love

quick replies;

be polite and precise: answering all their questions is a must;

add a personal touch: clients

love

it when you call them by their names and show them that you remember the tiniest details about their orders;

express appreciation: let them know that you appreciate their interest in your company greatly;

offer competitive pricing: before replying with prices, don't forget to ask clarifying questions in your quote e.g., the ones related to a client's delivery address or their preferred product design. 

Whether you're looking to quote PDF or MS Word-oriented clients, Saldo Invoice is where all your quoting, billing, and invoicing needs will be met. Our platform is where you can create, save, and send quotes online in just a few taps. We'll also gladly assist you with our expert tips and how-to guides.
Also you can find more Quotes Templates