Google Sheets Quote Template
Create, save and send quotes online with a single click!
Free downloadable Quote Template Google Sheets
Select the template format you want to use - download, customize, and send it with a single click.
Get the template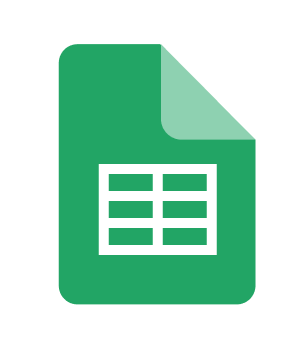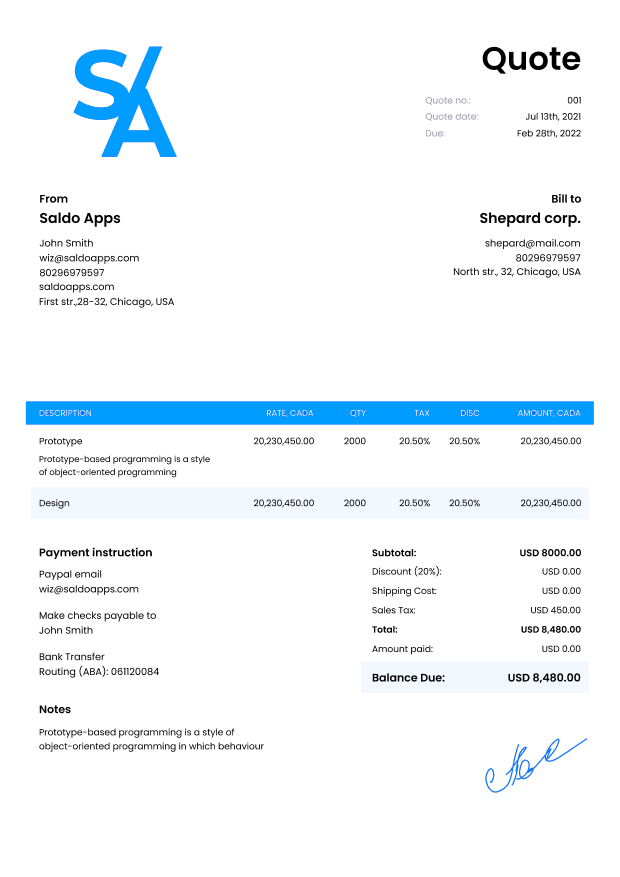 Do you need more Invoice Designs?
Customise your Invoice Template
About our Google Sheets Quote Template

If you've been in any business for a certain period of time already, we're sure you know how quoting customers works. Whenever you receive a new inquiry from your potential consumer wanting to know your prices, you need to reply as fast as possible with an accurate estimate, also known as a quote. As for a quote template, it's a pre-made, time-saving, and perfectly uniform version of a quote, with only a few custom fields to fill out.

Are you currently seeking a top-notch blank quote sheet template? Maybe you need an Excel template for quotes instead? Irrespective of the format you're on the hunt for, you are sure to find it here within our extensive database. Saldo Invoice is your go-to platform for all things quoting-, invoicing-, and billing-related. With our professional assistance, you'll effortlessly automate all these processes, thus freeing up your time to be productive in the most revenue-boosting way possible.

How to Work With Google Sheet Quote Template?

Working with our sheet quotes is a cakewalk. Just take a browse through our lengthy catalog, find the best-suiting template, fill it in based on the details you have on hand, and send it your client's way. Yes, it's that simple. No need to create quotes from scratch!

Here are some other perks of using our platform for the most effective customer quoting:

speedy reaction: everyone likes their inquiries to be addressed fast;
stimulating uniformity: the standard form of our quote template Google Sheets allows you to be consistent when quoting;
enforcing maximum accuracy: a good quote template or example of invoice allows you to polish your docs to achieve impeccable accuracy;

building rapport with potential clients: people trust businesses that take their inquiries serious

— and go the extra mile to win their hearts with an individual approach

;

brimming with professionalism: because integrity, uniformity, precision, gratitude, and politeness equal professionalism.

Download Quotes Sheet Easy With Saldo Invoice

What do you usually do when you meet important clients in person? You go to great lengths to make a fantastic first impression on them. Digital-wise, your approach shouldn't be any different. Therefore, when quoting your clients (which is, basically, seeing them for the first time), you should radiate professionalism, politeness, precision, and a positive mental attitude. And that's exactly what our receipt template Google Sheets catalog helps you with.

What's paramount is that by customizing one of our templates to match your business needs, you won't have to create a quote for each client from square one. That way, you'll elevate the administrative side of your work to a brand new, exceptionally time-saving level — and quote your potential consumers like a pro. So, give Saldo Invoice a go without hesitation to create, save, and send quotes online easily and quickly. It's guaranteed to contribute to your stellar reputation in the long run. 
Also you can find more Quotes Templates