INVOICE TRACKER
Make your clients' invoices look great, and you'll never have to worry about mailing them again. Track your company's revenue and spending using Google Sheets and the Excel tracking template. In the simple spreadsheet template, you may keep track of your payments, customer information, and project data.
Create an invoice now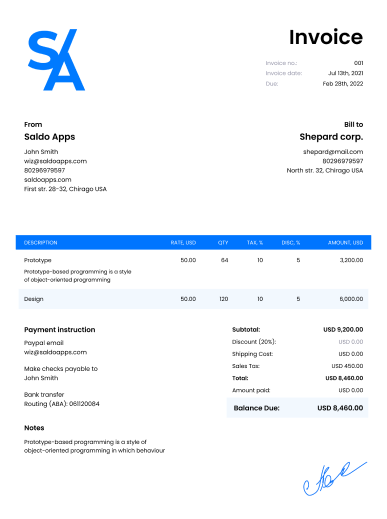 What Is an Invoice Tracking Software?

Professional invoice templates greatly increase the likelihood of timely payments. At the same time, it does not mean that the need for keeping track of invoices and the receipt of funds from your clients is eliminated. You should know exactly who, when, and how much should pay for the services or goods you provide. It is essential for budgeting, planning, and debt collection if any arise.

For this task, you need to use the invoice payment tracker. This type of software collects information about payers, bills, and deadlines, so you can quickly skim through the data, assess the current situation, and consider the next steps, such as sending reminder emails. Instead of opening each invoice separately, you get all the key information in one place. The invoice tracking tool saves you time and minimizes the possibility of errors and unpaid bills, empowering you to take on new projects.

How to Keep Track of Invoices and Payments?

Tracking all transactions manually is a tricky task for a business of any size. That's why you need to have convenient software at hand that will give you quick access to all information, whether you use our invoice generator tool or create your bills manually from scratch. Using a simple template, you can collect information about all created invoices in one document and monitor the receipt of payment for them.

Our invoice tracker in Excel allows you to get numbers from all generated invoices and arrange them in the order you need. This way, you can see invoices that should be paid, overdue bills, and partially paid checks. Using the Saldoinvoice mobile app, you can also track payment receipts and invoice statuses. The best way is a combination of both methods: analyze reports from the app and visualize payment data using spreadsheets.

How to Use Invoice Tracker in Excel?

With the template for invoice, you can generate professional bills customized for a specific situation and client. Then you should enter information in the invoice tracking spreadsheet about each new document created:

unique ID in your system;

invoice creation date;

payment due date;

the name of a customer (individual or company);

invoice amount and late payment fee;

payment/deposit;

date of receipt of payment;

the remainder to be paid.

Our invoice tracking template Excel is designed so that you can filter the data in any way you like, such as due dates, customer names, or debts. At the bottom of the table, you can also see totals for categories such as overall amount, incoming or outstanding payments, etc. All this can be convenient for budgeting, planning, tracking debtors, and sending summaries to customers on all invoices issued to them.

Organizing an invoice tracking system is a very important step in your money management, but with our customizable templates, it is fairly easy to do. You need to have a convenient tool for tracking receivable accounts to control all financial flows, maintain a thriving business, and develop it further. Our spreadsheet tracker template and invoice tracker app guarantee top-notch management over all your transactions.