Excel Purchase Order Template
Create, save and send purchase orders online with a single click!
Free downloadable Purchase Order Template Excel
Select the template format you want to use - download, customize, and send it with a single click.
Download File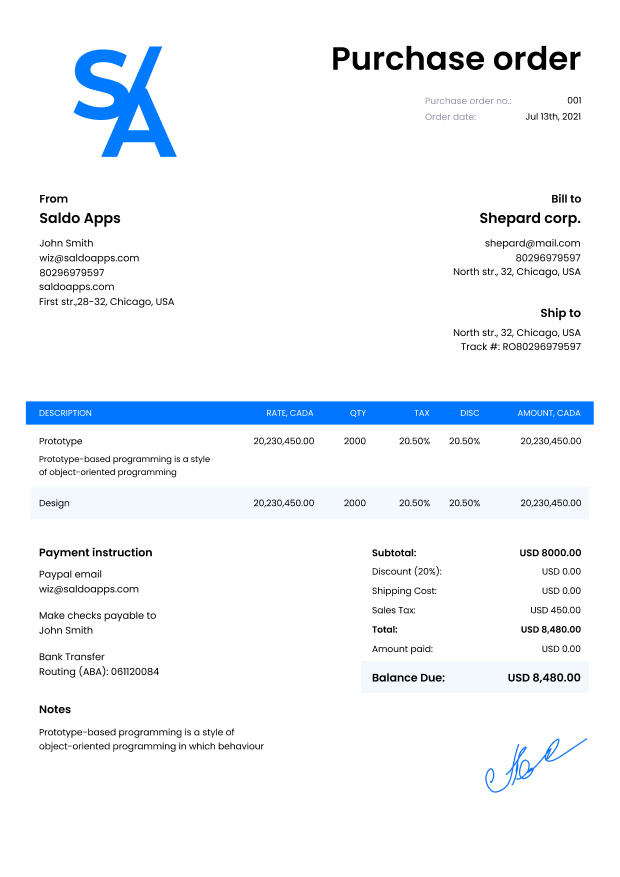 Do you need more Invoice Designs?
Customise your Invoice Template
About our Excel Purchase Order Template

Are you looking for a purchase order template in Excel format? We've got you covered. Our service excels in terms of providing its users with Microsoft Excel purchase order templates to suit their administrative needs. So, if your business suggests creating tons of files in Excel every day, including Excel estimate templates and invoice templates samples, Saldo Invoice is your best bet.

Our templates (which are 100% free, by the way) are your investment in the upgrade of your business integrity and professional reputation. With our assistance, you free up your time to focus on bringing the money in — while warding off such troubles as lost or delayed shipments, confused package content, or wrong delivery addresses.

When to Use Excel Purchase Order Template

A purchase order, also known as PO, is a crucial document a buyer issues to a vendor upon placing their order. This file usually contains the details about the goods to be ordered, their description, and prices. In other words, PO is a contract sent by the buyer to the seller in order for their cooperation to come to fruition.

After receiving the PO from the potential buyer, the seller either agrees to work with it or rejects it. The decision depends on their capability to follow the guidelines outlined within the doc. It means that upon signing the doc, the seller is legally responsible for adhering to what's written out in the PO.

When creating purchase orders in Excel, bear in mind that there are certain components of this type of file that are standard. They are:

PO issue date;
to-be-bought product quantity;
total cost;
unique PO number;
contact information;
payment conditions.

Download Purchase Orders in Excel Easy With Saldo Invoice

Wondering about why using a purchase order form in Excel is better than creating a separate PO for each new vendor from scratch? Some benefits are already easy to get to grips with here. Nevertheless, here's the complete list of those major perks:

with a free purchase order template Excel, you are more efficient: no need to spend hours of your time creating new PO over and over again;
you get to stick with a uniform file: our templates promote consistency, which is nothing but success business-wise;
you avoid human errors: because the template you'll opt for is 70% pre-designed;
you enhance your professionalism: if efficiency, consistency, and accuracy don't equal professionalism, then what does? You get the picture.

Finally, yet importantly, whether you're seeking a fine purchase order on Excel or a solid purchase order Google Sheets, you are on your way to refining your administrative efforts to exceptionally satisfying automation. And that's such a fine way to speed up your revenue flow!

FAQ

What is a purchase order template?

A purchase order template is a document used by businesses to request and track the purchase of goods or services from a supplier. It includes information such as the items or services being ordered, quantities, prices, delivery dates, and payment terms.

How can I use the purchase order template in Excel?

To use the purchase order template in Excel, download the template from our website and open it in Microsoft Excel. Customize the template by adding your company information, supplier details, item descriptions, quantities, and other relevant information. Save the modified template and use it to create purchase orders for your business.

Can I add my company logo to the purchase order template?

Yes, you can add your company logo to the purchase order template in Excel. Simply insert your logo image into the template and position it according to your preference. This customization helps enhance the branding and professionalism of your purchase orders.

Is the purchase order template suitable for different industries?

Yes, the purchase order template in Excel is suitable for businesses across various industries. Whether you are in retail, manufacturing, hospitality, or any other field that involves purchasing goods or services, you can adapt the template to streamline your procurement process.
Also you can find more Purchase Order Templates