Google Sheets Invoice Template
To make your bills in Google sheets format, we recommend using our Google sheet template invoice. This is very easy to create your charge in invoice sheets: make a copy of the sample, fill it and save!
Create an invoice now
Free Downloadable Invoice Template Google Sheets
Select the template format you want to use - download, customize, and send it with a single click.
Get the template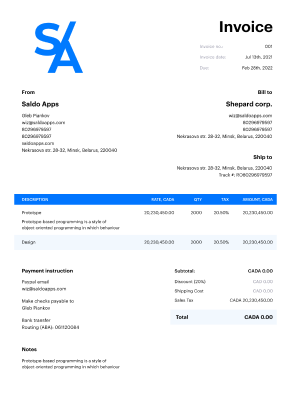 Do you need more Invoice Designs?
Customise your Invoice Template
Elevate your business invoicing to a whole new level with our selection of professionally designed Google Sheets invoice templates. Customize the template that suits your needs best and send it to your customer as soon as you possibly can. The faster you invoice, the higher your chances of getting paid equally fast. Also you can use invoice template Google docs.

By making use of our Google Sheet invoice templates, you are free to create your invoices from scratch, polishing them to the smallest details. Add branding, custom colors, pricing guides, incorporate custom borders and fonts, and get as creative as you can. Our Google Sheets invoice templates are 100% free, downloadable, printable, and flaunt excellent automatic calculation possibilities.

Ways of Using Invoice Template Google Spreadsheet

How about creating your first detailed invoice in the next five minutes? Yes, with our free Google Sheet invoice template forms, it's that easy. Invoice excel template offers a range of invoice templates, from sales invoices to service invoices and shipping invoices.

Here are the essential steps to take to start invoicing like a pro:

Sign in to your Google Sheets using your login and password.
Download the blank invoice sheet from this web page.
Name it and customize it to suit your needs: add branding, your company details, payment methods etc.
Make a copy of the sheet and rename it for your customer.
Complete the rest of the template with the details related to this particular client.
Save the invoice and feel free to send it.

Want to know how you can adjust your Google Sheets invoice template to suit your business needs? Follow the tips below for some inspiration:

incorporate your business logo, along with your branding colors and fonts: make the sheet reflect the face of your business;
add your business name and contacts: include all the details that may be vital for your customers to know;
edit the fields: itemize the products sold/services rendered in the clearest way possible;
include prices: your customers need to know what and how much they are paying for;
include payment terms: if you want to get paid fast, be as clear as possible with regard to specifying the payment terms, dates, and payment methods you work with;
don't forget to crown it all with a 'Thank you for doing business with us' note: your clients will be pleased to know you're happy to work with them.

Pros & Cons Creating an Invoice in Google Sheets

There's a multitude of benefits of  invoicing your clients with Google Sheets templates. Here are some of them:

Google invoice spreadsheets flaunt excellent formats and come with all the important elements of a professional business sheets;
all the templates come with extensive customization possibilities, but incorporate versatile default design elements;
invoice your clients in a flash: just add the needed information to the before-customized template and send away;
invoice your clients on the go no matter where you are;
our Google Sheets invoice templates are designed for immediate downloading and printing.

Now, as for the disadvantages of using Google Sheets for creating contractor invoice template sheets or consultation invoice template files, some users single out a rather confusing interface and not-so-easy-to-get-to-grips-with formulae. At the end of the day, once you generate invoice from Google Spreadsheet templates we offer, you'll realize that the pros prevail over the cons. Never forget that with Invoice maker by Saldo Apps, you will enjoy working less hard, while converting more leads to customers.
Also you can find more Basic Invoice Templates