Word Estimate Template
Spend no more time attempting to generate estimates from scratch. Our templates are simple to use and adaptable to your requirements whether you're at home or the workplace. Take your business to the next level by starting to use Estimate Word Simple with us right away!
Free downloadable Estimate Template Word
Select the template format you want to use - download, customize, and send it with a single click.
Download File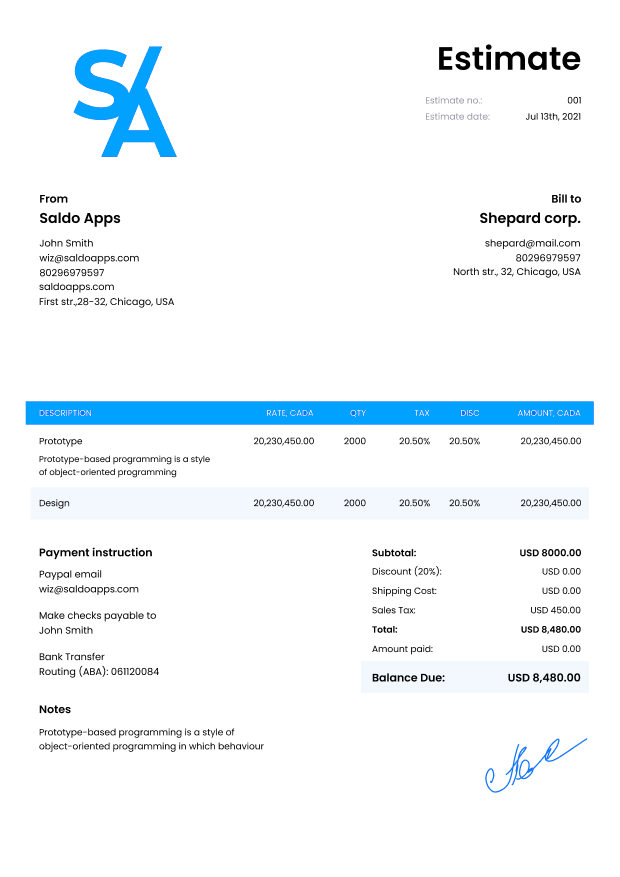 Do you need more Invoice Designs?
Customise your Invoice Template
Purposes of Word Estimate Template in Business

Estimates are a special type of document that, although not legally binding, is used in a wide variety of industries. An estimate template Word gives you the opportunity to show your client what work you'll do and what materials you'll provide for a particular project.

At first glance, this type of paper seems identical to the template Word invoice, but it is not. Their main difference is in the purpose. The task of the Microsoft word estimate template is to assess the approximate cost of a project, the timing of its implementation, and the necessary materials and equipment and convey this information to a customer. Unlike invoices, this format is not final, does not imply the client's consent to purchase all listed items, and does not require payment from an orderer. And, of course, it doesn't oblige you to deliver these goods.

The estimate form Word sent to a recipient can be revised several times to meet a client's wishes. Besides, a customer can request such an assessment from several companies to evaluate the possibilities and conditions of each and choose the best option. That is, estimate templates for Word are filled in by businesses and handed over to potential clients even before any work starts (which is how they differ from invoices that are issued after work finishes).

Based on the MS Word estimate template, the purchase order is issued, if the conditions described suit a customer. Then the order is executed, and an invoice is created to ask for payment for the tasks performed. It is essential to keep the papers created at each stage in your archive so you can figure out what's what in case of a misunderstanding. Using our online receipts generator, you can store all papers electronically and have access to them wherever you are.

Download Estimate Word Easy With Saldo Invoice

You can download free estimate templates Word to your device and fill it out in advance or do it right after completing the project estimate on our website or application. Enter all items with a fixed or hourly rate in the document, and indicate the cost of renting equipment, due fees, taxes, delivery costs, and so on. Try to make a list as detailed as possible so that clients know exactly what they will have to pay for. When you're done, email the file or share it with a link. If necessary, you can choose another format, for example, PDF estimate, download the completed template to your device, or print it.

Our generator and extensive library of forms for various categories, and countries, for example, invoice in Malaysia, and purposes make the process of project assessment, quotation, and invoicing as simple and fast as possible. With us, you can generate the necessary documents literally on the go from any convenient device. All your papers will be well-structured and professional looking.
Also you can find more Basic Invoice Templates