Excel Receipt Template
Create, save and send receipts online with a single click!
Free downloadable Receipt Template Excel
Select the template format you want to use - download, customize, and send it with a single click.
Download File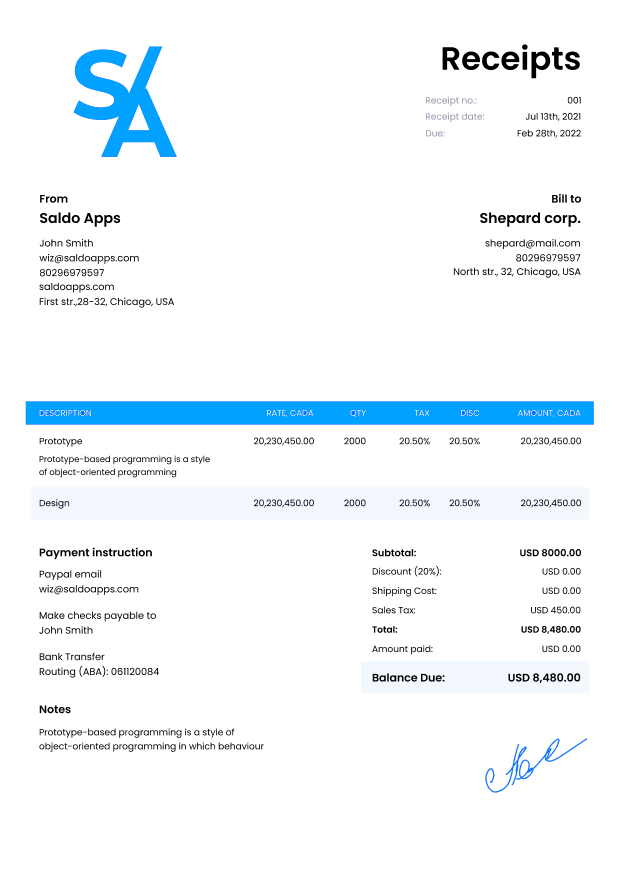 Do you need more Invoice Designs?
Customise your Invoice Template
Simplify Receipts Making With Excel Template Receipt

Each stage of the relationship with clients is accompanied by standard documents needed for the accounting needs of both parties. So, for example, an order is placed by filling in the template for a purchase order, payment is requested using an invoice, and you should confirm receipt of money by creating a receipt in Excel. While the latter type is rarely or never used by some companies, it is still best to provide written confirmation that you have received compensation for your work from clients.

The scale of your business can be so large that manually creating a receipt form Excel might be quite time-consuming and tricky. You should use receipt templates Excel to speed up work and minimize errors. Not only do they help freelancers and the self-employed streamline fill out paperwork, but they also allow you to write out confirmations from any device on the go. Now you can generate the desired document right after receiving funds from clients, wherever you are. Although such papers usually do not have regulated deadlines, it is better to transfer them to recipients as soon as possible.

Our payment receipt Excel template has all the required fields; you only need to enter information about:

your company;

customers;

order: a full list of services and goods, their quantity or hours spent on a job, pricing, and applicable taxes;

discounts, shipping costs, and the total cost of a project;

date of receipt of money and payment method;

references to previously generated documents, for example, quote or

excel estimate template

.

Often, these forms have limited personalization and customization options. We offer you a truly versatile and flexible tool that you can set up to suit your needs:

add as many lines to your order description as you need to list all items; 

offer your customers several convenient payment methods; 

attach your company logo, insert notes, tips, and words of gratitude that will encourage customers to return to you, and much more.

Download Receipt in Excel Easy With Saldo Invoice

Professional confirmations, sent on time, show your concern for clients and help build trust and long-term relationships. Download the receipt template Xls on any of your devices and enter the order information listed above. Make sure there are no mistakes or typos in the text (you don't have to worry about the math, as the system calculates the total sum automatically). Send payment receipt format in Excel to recipients in any convenient way: email, link, on physical media, or in printed form.

If your clients are comfortable with other file formats, our library also has a Word, PDF, Google Docs, and Google Sheets receipt template. Our generator is suitable for issuing a variety of forms at all stages of interaction with customers, from quotation and estimation to invoicing and money reception. Also, find multiple variations of receipts in our catalog, like bicycle receipt or others.

FAQ

What is a receipt template?

A receipt template is a pre-designed document that allows businesses to create professional receipts for their customers. It includes important information such as the date of the transaction, items purchased, payment details, and more.

How can I use the receipt template in Excel?

To use the receipt template in Excel, simply download the template from our website and open it in Microsoft Excel. You can customize the template by adding your business information, logo, and other details. Save the modified template and use it to generate receipts for your customers.

Can I customize the receipt template to suit my business needs?

Yes, the receipt template in Excel is fully customizable. You can edit the fields, layout, and design according to your business requirements. Add or remove fields, change colors, and personalize it to reflect your brand identity.

Is the receipt template suitable for both small and large businesses?

Yes, the receipt template in Excel is suitable for businesses of all sizes. Whether you run a small retail store, a restaurant, or a large enterprise, you can utilize the template to create professional receipts for your customers.
Also you can find more Receipt Templates