Excel Quote Template
Create, save and send quotes online with a single click!
Free downloadable Quote Template Excel
Select the template format you want to use - download, customize, and send it with a single click.
Download File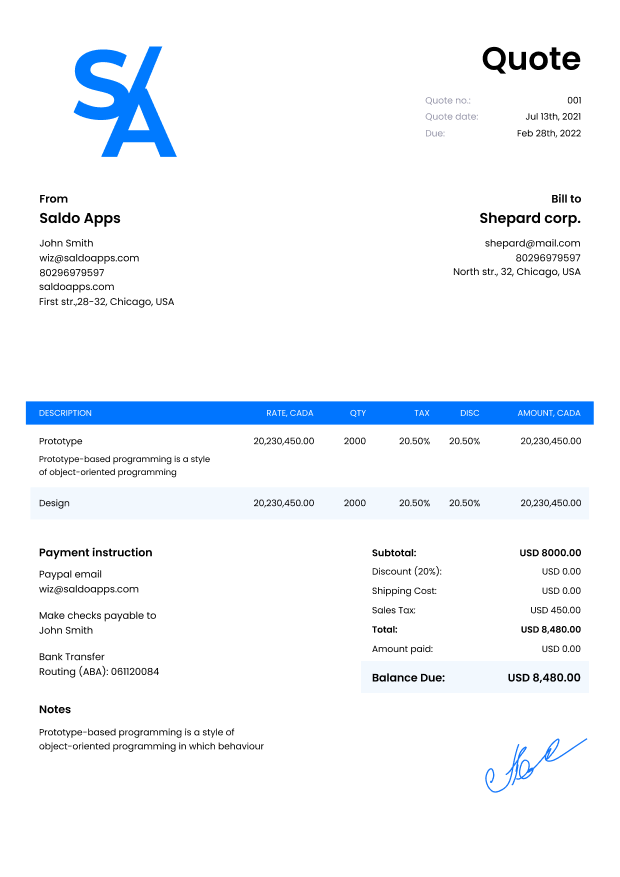 About our Quotes Templates Excel

Are you rummaging the net for quality Excel quoting templates? Today's your lucky day. In our extensive database of free Excel quote template files and PDF invoices, you are sure to find the doc that resonates with your exact corporate needs. Saldo Invoice is a portal where a treasure trove of all-format niche-specific templates are offered 100% free of charge. With us, you'll excel in quoting, invoicing, and billing your clients like a pro.

If you are here, then you're most likely aware that a quote is a corporate document you send to your potential clients specifying your services or products they are interested in — as well as the price your company charges for them. Now, a quote template is a pre-made version of this document, ready to be adjusted to include unique details about your company and clients.

How to Make the Excel Quote Template

What's paramount about our quote forms Excel is that you won't have to scratch-make a new quote each time you receive a new customer inquiry. Instead, you'll just modify the quote template in Excel with our service by filling out the standard document with all the required details, and that's about it. In other words, with our quote generator Excel, you will skyrocket your quote automation to stardom.

Aside from that particular advantage, utilizing our Excel and Google Sheet quote template files comes with a slew of other perks, such as:

saving tons of your time;

impeccable customization potential;

uniformity and niche-orientedness;

cementing your reputation as a reliable professional.

Quotation format in excel is among the most widely used in terms of business automation. A wide array of features offered by this format allows you to create complex reports, checklists, and forms with lots of calculations. However, creating spreadsheets from square one is a serious challenge. And the reason behind it is a critical parameter for today's world: time. Now, if you turn to our service, you will both lay your hands on the highest-quality quote XLS files and save loads of your time.

Download Excel Quotes Easy With Saldo Invoice

Professional quoting is crucial. Your quote is among those first-impression emails your clients will get from you — and you must make it good. Therefore, how you design and word your quote in many ways determines whether they'll proceed with the order or go the other way.

Here are some handy tips for turning your quotes into a stable (and well-deserved) revenue stream:

act fast: quoting as soon as possible is a must;
politeness and precision: they win your clients' hearts;
individual approach matters: memorize everything about your clients' inquiries in order to show them that you actually care;
be grateful: express appreciation to your clients every time they send you a positive sign;
ask questions: have your customers specify their most elaborate needs — in order to provide them with the most accurate quotes;
encourage free-quote contact: stimulate your potential customers to contact you by offering them free quotes.

Irrespective of the specific format of a purchase order or quote you're on the prowl for, Saldo Invoice has a lot on offer. With our clean and professional templates, you are bound to succeed in streamlining your administrative workflow. 
Also you can find more Basic Invoice Templates