Word Receipt Template
Looking for an efficient and user-friendly way to create professional receipts? Our receipt word template is easy to use and customizable to fit your needs. Simply fill in the required information and you'll have a professional-looking receipt in no time. Don't waste any more time on manual receipt creation, sign up now and start enjoying the benefits of our receipt word template!
Free downloadable Receipt Template Word
Select the template format you want to use - download, customize, and send it with a single click.
Download File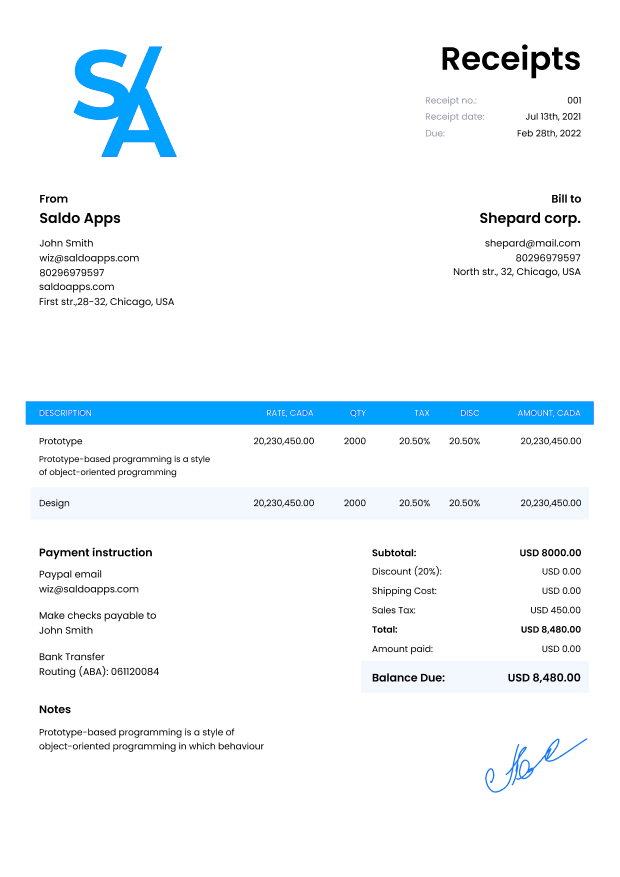 Do you need more Invoice Designs?
Customise your Invoice Template
What Is a Word Receipt Template in Business

Many people are familiar with the invoices' features, but not everyone knows that there are other forms that can be used in the companies' document flow. For example, receipts are often employed at the final stage of customer interaction. They confirm the receipt of payment for the work you have completed. Although the laws of many countries do not oblige businesses to provide such papers for each transaction, it is still recommended to use the Word template receipt of payment to confirm the transfer of money to your account in writing.

Since these forms are optional, you can create them manually on paper or electronically. However, it is best to use the Word template for a receipt, which already has all the fields necessary to fill out. This way, you will be sure you won't miss any critical information. Such documents are used in the accounting of both businesses and their clients.

In case any questions arise, or a customer wants to return or exchange any product, all generated papers should be used to resolve disputes: from the very first purchase order template in Word to the final one, sent after payment is received, Microsoft word receipt template. All documents created for a specific client and order should be linked and serve as references for all subsequent papers.

Our receipt template Word free is suitable for confirming transactions in any form: cash, checks, bank cards, e-wallets, and much more. It is flexible enough that you can fill it with all the required information to confirm the transaction, sale, and receipt of money. You can also personalize the base template by attaching your company logo, adding unique discounts and offers for a particular orderer, and much more.

Download Receipt in Word Easy With Saldo Invoice

The process of creating a receipt in Word with our form is quite simple; thanks to it, you can provide confirmation to a client as soon as you see that the money has arrived in your account. As with online invoices templates, it's best to provide receipts as soon as possible so that payers don't have to worry about whether payment has reached you. First, download the blank to your device, then enter all the information about the order and compensation for your work, and send the document to the recipient's email or share a link to it in any other way.

If you wish, you can use not the receipt format in Word other formats that are more convenient for you or your clients. You will also find other forms in our collection, such as a template for purchase order Word, estimate Excel, quote PDF, and invoice forms for various professions and categories.
Also you can find more Receipt Templates