Excel Invoice Template
This is our template for invoice Excel. You can create any invoice in this template, just fill it out, then save and download it. Enjoy the simple use of this template and make your business.
Create an invoice now
Free Downloadable Invoice Excel Template
Select the template format you want to use - download, customize, and send it with a single click.
Download File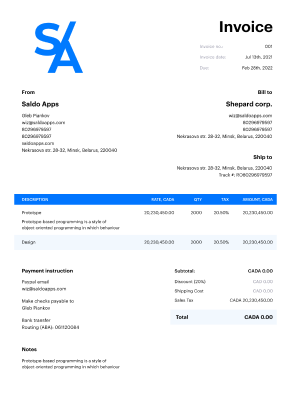 Do you need more Invoice Designs?
Customise your Invoice Template
Being a small business owner means having to cope with multiple important tasks. If boosting your revenue is among your ultimate goals, then you should focus on mastering the art of billing. With a wisely customized and clearly designed blank Excel invoice template, you will save heaps of your time and enable your clients to pay you faster.

Billing your clients quickly, professionally, and politely is paramount. To speed up the process and make it as effective as possible, use our top-notch software. It will improve customer satisfaction, stimulate your clients to pay you faster, prevent human error, enhance your organizational potential, and save your time immensely.

Also, to help you manage your client payments, we've compiled a catalog of professional, fully adjustable, and straightforward xls invoice templates. Select the downloadable Excel invoice template that resonates with your current business pattern, download it, and customize it to suit your unique needs. Once you switch to online billing, you'll never go back to paper and pen.

To make sure you get paid fairly for the specific goods and services you offer, use one of our many fully customizable Google Doc invoice template.

Tips for Using the Templates of Our Excel Invoices

Are you planning to make an invoice based on our template selection? Good for you! Here are some expert tips and hacks on how to design a billing format in excel your clients will trust:

Download the invoice template .xls from our collection.
Adjust it to feature your company name, contacts, and logo.
Indicate the services rendered or products sold.
Include your customer information.
Specify the issue date, plus the payment due date.
Indicate your payment terms.
Assign a unique ID to your invoice.
Don't forget to add a personal note once you're through with the official stuff. Thank your client for their business, as well as for choosing your company.
Export the invoice in Excel format and send it as soon as you possibly can.

You can follow easy steps from your full guide on How to Create an Invoice in Excel

Pros & Cons of Spreadsheet Invoices

Microsoft Excel is a popular program. And it's newbie-friendly, too! If you're just starting out as a small businessman, you can try and use it for billing your customers. The process of billing via Excel doesn't differ much from using Microsoft Word. The only exception is that with Excel, you get to set up calculations for your file to happen automatically. You'll find the details on the perks and drawbacks of Excel-based billing below. Or you can also choose cloud-based alternative – Google Spreadsheets invoice template.

Pros:

Designed for complex spreadsheets;
User-friendly irrespective of your savviness;
Makes creating and using formulas for calculations easy;
If adjusted properly, our templates will help you boost your business.

Cons:

Using Excel for invoicing is still a manual task;
The program comes with a learning curve: if you don't know how to create formulas, you'll make mistakes in your calculations.

Main Elements of Excel Invoice Template

While an Excel sheet for billing can significantly ease your daily routine, you need to understand its structure and learn the basics as well. This section can help you to find out where to start. You may begin by learning which elements are necessary to include in your Excel bill:

Main Elements of Excel Invoice Template
1. Your Logo:
Pay attention that Excel has its specifics. While it suits all business owners who have to calculate numbers and prices, you might have limited options when it comes to logo creation and addition. Yet, the logo of your brand is a highly important piece that must be visible on top of the page. Create it in advance and attach it to every form while generating invoices from Excel.
2. Name, Address, and Extra Information About Your Business:
You need to indicate your name and phone number to be available for your clients at least during working hours. Include your email, the physical address of the company, and its website.
3. Your Client Address and Contact Information:
Make sure it is accurate. Avoid mistakes in your client's info since it looks disrespectful.
4. The Shipping Address and Unique Tracking Numbers of Products:
If it differs from your client's address, discuss this in advance.
5. Prices:
If you are familiar with making invoices in Excel, you know that the calculations are the simplest thing to do there. However, you always have to use specific formulas. Create the table with the prices for the items, add a description of services or goods, and calculate taxes, QTY, and total amount. If you provide a discount, include the percentage.

What to Consider When Filling out an Excel Invoice?

You have to make sure that you are familiar with Excel in the first place. If not, you should learn the very basics. You have to know how to create an Excel invoice before you send the document to the client. Here are a few aspects that are vital during the process:

This program offers formulas that you can use to prevent mistakes in calculations. Clients will not trust you if they understand that there is an issue with your bill. Numbers are crucial in billing forms;
Once you begin to fill out Excel for invoices, you might realize that you have limited options in decorating the document. Don't worry, this form does not require anything extraordinary, including vivid graphics. You have to be professional and make sure that this invoice looks direct and crystal clear for all your clients, no matter their age or social status;
Excel offers you a unique opportunity to make your invoice understandable and well-organized. You have to follow the rules and put all the information in its place. Don't mix everything in one column. Make sure that your company's name, logo, and the prices that customers must pay are visible from the start. Try to be specific about each calculation you provide by showing the procedure.

Alternatives to Using Invoice Template Excel

When it comes to invoice templates Word and Excel formats are both presented in plenty in our selection. However, you should know that these days, successful billing goes far beyond those two programs. If you really want to streamline the process, opt for top-level invoicing software. We have a thing or two to offer you in this respect, as well. Give our Saldo Invoice app a go, and you'll definitely see the difference.

FAQ

1. How do I automate an invoice in Excel?

With our ready-to-use template, you do not need to automate the process of preparing invoices yourself, all the required fields have already been specified, you just have to specify all the necessary information and send the finished Excel invoice.

2. How to calculate the invoice total in Excel?

First, you need to calculate the subtotal amount, which is based on the quantity and price of the goods indicated on the invoice. To calculate the total amount, besides the subtotal amount you need to consider shipping cost, sales taxes, and any provided discounts.

3. How can I save an Excel invoice in PDF format?

After you edit all information in the downloaded Excel invoice go to the File tab and click to Save as PDF and you will get an Excel invoice converted to the PDF.
Also you can find more Invoice Templates