Word Purchase Order Template
Are you weary of drafting purchase orders from nothing for hours on end? Use a pre-designed layout to make it simple to add all the required components of a purchase order. With the help of a trustworthy Word template, modernize your purchase order procedure right away and simplify your operations.
Free downloadable Purchase Order Template Word
Select the template format you want to use - download, customize, and send it with a single click.
Download File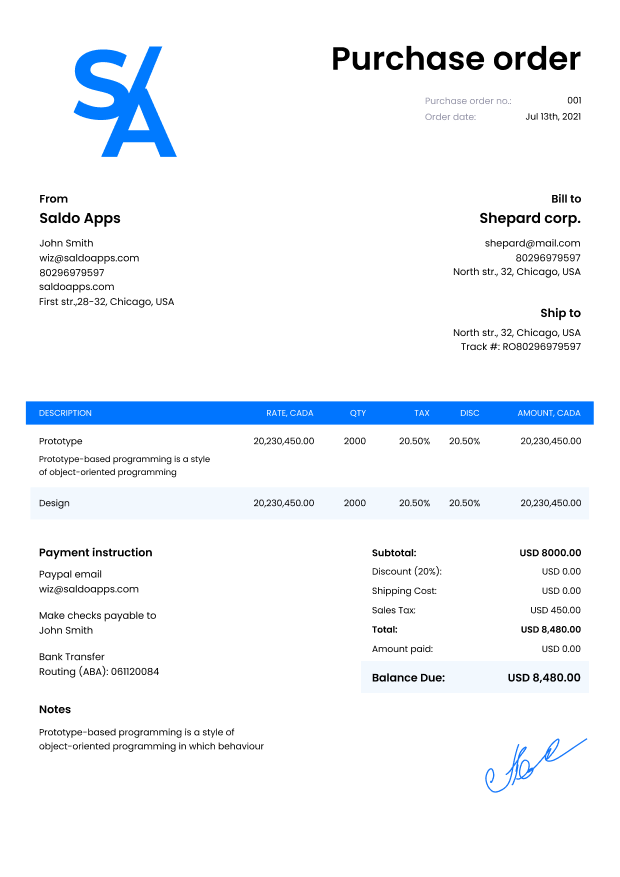 Do you need more Invoice Designs?
Customise your Invoice Template
About our Word Purchase Order Template

Are you running your own company? Then you're likely aware of the importance of a purchase order for an effective and fast buying process. Each purchase order has a specific ID that aids both the vendor and the client in monitoring their deliveries and transactions.

This document itemizes the goods sold or services rendered, along with their cost and established time frame. With that said, the doc is a legitimate agreement based on which the vendor is obliged to adhere to the guidelines it contains.

Now, with regard to a solid MS Word template for purchase order, it's a layout that assists companies in streamlining their processes with exceptional ease and speed. If you're on the prowl for high-quality pre-made purchase order templates for Word, as well as other formats, take a browse through our catalog.

Here, you'll also find invoice templates Word and all sorts of popular formats. Saldo Invoice is where your chances of automating your operation get a significant boost.

What to Include on Purchase Order Template Word?

With regard to the format of purchase order PDF and Word are among the most popular layouts. Irrespective of the Word purchase order format, the elements of this doc are stably the same. The MS Word purchase order template you'll get comes with a particular pattern that contains pre-designed fields for the following standard elements of the doc:

tracking ID;

vendor info;

services/goods itemization;

contact info;

payment conditions, and the like. 

In other words, with a reliable Microsoft Word purchase order template, you take the guesswork out of completing your company's administrative tasks — while saving heaps of your precious time along the way. It's a win-win situation for both your business and your clients.

Download Purchase Order in Word Easy With Saldo Invoice

Whether you're looking for a template for receipt or any other essential document layout within a certain niche, our platform is your go-to resource. By making use of Saldo Invoice, you get to create a purchase order in Word in mere minutes, save your time, elevate your business reputation to a brand new level, and thus, eventually outsmart your competitors.

With our assistance, instead of scratch-designing a new administrative file for each client, you will adjust one previously designed template to suit your current needs. Our free purchase order template Word files offer a slew of customization possibilities that suggest excellent branding, innovative designs, payment link insertion, etc.

So, if you're interested in saving your time, automating your entire operation, as well as reducing human errors and waste, our templates are your best bet. Give them a go today!
Also you can find more Purchase Order Templates