Word Invoice Template
To create an invoice in Microsoft word format you need to spend a lot of time. It's you need to pick up formulas and tables and think about the appropriate appearance of the bill. To save your time and nerve, download the invoice template in word, fill, and save it.
Create an invoice now
Free downloadable invoice template Word
Select the template format you want to use - download, customize, and send it with the free invoice template Word.
Download File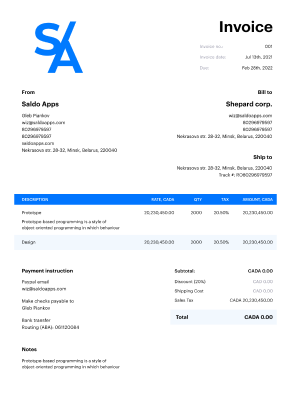 Do you need more Invoice Designs?
Customise your Invoice Template
About our Word Invoice Template

Running your own business is time-consuming. If you're a small business owner, you need to set your priorities straight. Billing your clients is vital. But did you know there's software that can make it a lot easier and faster? To aid you in managing your customer payments, below, we have put together a selection of fully customizable, professional, and easy-to-use Word invoice document templates.

Choose Microsoft Word templates invoices that suit your current business needs the most. Feel free to download, modify, and generally run them through their paces. Whether you're on the prowl for printable Word templates or seeking invoice PDF templates for managing your affairs, we've got you covered. Our platform will help you bill your clients like a pro and effortlessly track amounts due.

Tips for Using Blank Word Invoice Templates

If you're looking to use a Microsoft Word commercial invoice template from our selection to your maximum advantage, follow these tips from our experts:

download invoice template for Word;
customize it to include your business name, contacts, and logo;
list the selection of services you've provides/products you've sold;
type in your client details;
indicate the issue date, as well as the payment due date;
type in the total price for the services/products;
clarify your payment terms, based on what you've previously discussed with your client;
add a unique number to the invoice Word sample;
add a personal note at the end of the file to express gratitude to your customer for mutually beneficial cooperation;
save the file and send it as soon as possible.

See detailed guide on How to Make an Invoice in Word

Pros & Cons of Creating Invoices in Word Format

Microsoft Word is used by millions of people on a regular basis. This format is intuitive and effortless. Despite its minor flaws, it's among the best choices if you want to generate an invoice your clients will trust. When it comes to creating invoices, Word adds up to the docs' clean, well-organized design. It allows you to include all the details necessary to make your bill look straightforward, convenient, and professional.

Pros:

amazing flexibility and customization possibilities;

ease of use;

accessibility due to the wide array of files in the catalog;

each our

Word invoice document

looks polished and professional;

when customized correctly, our templates will boost your reputation;

Cons:

may involve slightly more time-consuming manual efforts compared to other formats;

lack of automatic formulas compared to Excel.

MS Word Template for Invoice: Choose, Customize, Send

Making your invoice look professional is challenging. That's why here, we offer you template invoice Microsoft Word for this purpose. Make the most of our Word templates or a cloud-based alternative Google Docs invoice template, as well as use our top-notch Saldo Invoice application for custom-designing your bills. With our assistance, you will succeed in quoting your clients, getting paid fast, and saving lots of time along the way.

Main Elements of Word Invoice Template

You have decided to send a professionally made commercial invoice template for Word, but don't know where to start. Don't worry, once you learn the basics, the process will be easy peasy. You already have the software with tools that can help you to improve it, and now you need to think about what to include in your invoice form in Word:

Main Elements of Word Invoice Template
1. The Name, Title, and Logo:
The first thing your client has to see is the logo of your company. It must be even more visible than the price since it is an extra ad you don't even have to pay for. Don't forget about your contacts. You have to be reachable for the next order and new clients. If you change the phone number, update the template.
2. Client Name, Title, and Other Important Information:
An MS invoice is an official document that later can be proof of the deal in court. You have to specify the person who received services or products from you.
3. The Shipping Address:
Make sure that's the exact address your client indicated. If you agreed on a specific delivery system, you can add this detail as well.
4. The Invoice Number:
Don't forget about the number of the invoice blank. Each of the templates has its own number. It is a perfect way to keep all the documents in order. Use this system from the very beginning.
5. Product Description:
You have to describe and name the product you provide to the customer. You can even add extra details for your customer to understand the origin of the price. You need to mention the price, the tax you take, and the total amount in separate columns near the product's name.
6. The Deadline:
Indicate a specific deadline for the payment.
7. Your Brand Signature:
Sign the document with the company's name.

What to Consider When Filling out a Word Invoice?

Even a simple invoice template Word you create requires the thought you put inside. You have to treat the document as a bill your customer must pay, the form that keeps the records on the goods you sell or the services you provide, and the extra advertisement. Consider the following tips while making an office invoice template:

Get inspired by a wide range of invoice templates from other companies. Many examples are available online. Make sure that your form stands out from others at least by colors and logo. You have to impress your clients with your professional attitude;
Your logo is something that must be catchy and quickly recognizable. If you don't know where to start, consult with your team or designer. It is better to make it simple but well-thought;
Make sure that the invoice template in a Word document contains all the numbers, including the taxes you take from the client. Be specific if you want to gain the trust of your customers. They will never use this service again if they become suspicious or find a mistake in your calculations. It is highly important to recalculate everything twice;
Try to be polite in this template. You can achieve it by adding thankful standard notes and welcoming words at the end of the form. If you want, you can mention a discount for the further purchase;
If you don't want to keep sending your customers notes about payment deadlines, it is better to indicate everything in this invoice. Be polite but note that there are strict policy rules.

FAQ

How can I customize the Word invoice template?

You can customize the Word invoice template by opening it in Microsoft Word and editing the text, layout, and adding your company logo.

Is the Word invoice template compatible with different versions of Microsoft Word?

Yes, the Word invoice template is designed to be compatible with various versions of Microsoft Word, making it accessible to a wide range of users.

Can I save my Word invoices as PDFs for easy sharing?

Yes, you can easily save your Word invoices as PDFs from within Microsoft Word to make them suitable for sending electronically.

Are there any pre-filled fields in the Word invoice template?

The Word invoice template includes fields for essential invoice details like billing address, payment terms, and item descriptions.

Is technical support available if I encounter issues with the Word invoice template?

Yes, you can reach out to customer support for assistance with any technical issues related to the Word invoice template.
Also you can find more Basic Invoice Templates