Google Docs Purchase Order Template
Create, save and send purchase orders online with a single click!
Free downloadable Purchase Order Template Google Docs
Select the template format you want to use - download, customize, and send it with a single click.
Get the template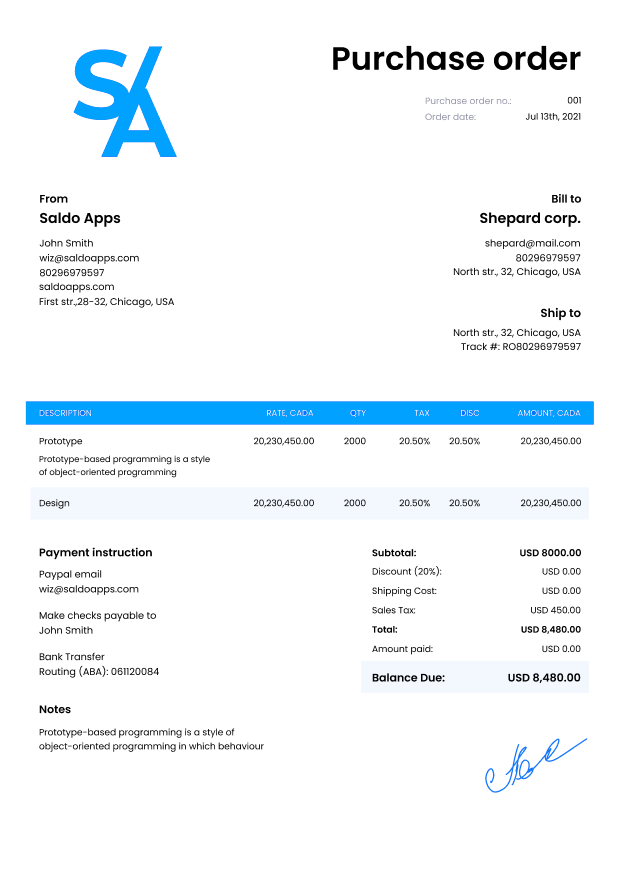 Do you need more Invoice Designs?
Customise your Invoice Template
About our Google Docs Purchase Order Template

If you're here, then you're probably rummaging the World Wide Web for a top-notch Google Docs purchase order template. That's exactly what we can help you with. Saldo Invoice is your hub for everything related to fast and effective billing, invoicing, quoting, and purchase order issuing. Here, you'll access an extensive purchase order template doc catalog and get the possibility to stick with the best and most customizable layout.

By making use of our absolutely free purchase order template Google Docs templates, you invest in upgrading your operation, as well as automating your entire workflow and enhancing your overall professionalism. Whether you're on the hunt for a receipt template doc catalog or are strictly focused on purchase order format doc, our excellent platform is the answer to your prayers.

Basic Google Doc Purchase Order Template

So, what exactly is a purchase order? Also referred to as PO, it's a vital business document issued by a buyer to a seller during the process of finalizing the order. The basic version of a purchase order example doc typically features the description of the goods, along with their cost. With that said, PO is an agreement between the client and the vendor that basically gets the cooperation going.

When the seller receives the PO from the client, they can either opt for accepting or rejecting it. The choice is determined by whether or not the seller can take responsibility for what the PO entails. In other words, if the seller signs the document, it means they agree to follow the entire purchase order agenda.

The following points should be present in any template for purchase order Word or Excel:

the date when the doc was issued;
how many goods the buyer needs;
further details about those goods;
the pricing point;
contact info;
transaction guidelines.

Download Purchase Order Doc Easy With Saldo Invoice

Using purchase order and quote form templates comes with a treasure trove of advantages:

premade templates make issuing PO a breeze: you no longer have to create a new doc whenever a new cooperation is on the rise;

sticking with a uniform layout enforces consistency: this, in its turn, boosts your professionalism;

using a single standard template minimizes mistakes: accuracy and precision are key paperwork-wise;

paper is actually not necessary: our fillable templates are perfect for online, on-the-go completion;

you streamline your workflow by staving off such troubles as shipments got lost, items gone, or shipment address messed up.

Long story short, irrespective of the required format of purchase order, our gallery is guaranteed to provide you with everything you need. With our templates and expert tips, you are bound to succeed in automating your operation and skyrocketing your profits to stardom. That's what professionalism is all about! 
Also you can find more Purchase Order Templates