Google Docs Invoice Template
If you want to make a concise, correct, and clear bill use our invoice templates for google docs. You can create an invoice in this template, just make a copy, fill it out, then save it. 
Create an invoice now
Downloadable Google Docs Invoice Template Free
Select the template format you want to use - download, customize, and send it with a single click.
Get the template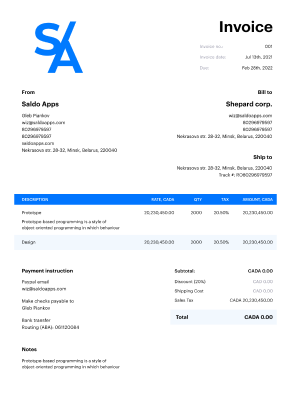 Do you need more Invoice Designs?
Customise your Invoice Template
About our Google Docs Invoice Template

Are you a small business owner striving to get paid on time? We understand your concerns. Because how fast your customers pay is largely determined by the speed and professionalism of your invoices. Therefore, to boost your sales, you need to make sure you sort out your invoices in the most efficient way possible. Also, make sure you have a template for your foreign customers, for example,

invoice in German, or any country with whom you are related.

Keeping track of a multitude of customers, accounts, and projects can be challenging. If you combine it with managing invoices and tons of bookkeeping tasks, that may occasionally feel overwhelming. Luckily, you can benefit from pro forma invoice sample forms in order to make the invoicing process a lot faster and easier. Want to know how to use invoice template for Google drive or use Google Docs to create invoices in a matter of mere moments? Keep reading.

Ways of Using Invoice Template Google Docs

Google Docs are infamous for their non-user-friendly interface, steep learning curve, and confusing formulae. As a business owner, spending hours of your time on docs is just not reasonable. To save your precious time and boost your productivity, make the most of our free invoice templates Google Docs. Our downloadable, printable, and 100% customizable templates will make even complex invoicing easy.

So, are you ready to give our Google form invoice template docs a try? Benefit from this step-by-step guide and start using our templates to invoice like a pro:

Log in to Google Docs using your login details.
Download the blank invoice Google Docs from this web page.
Open the blank in Google Docs.
Edit the doc's name and body by adding your logo, company name and contact details, payment methods etc.
Make a copy of your template and fill it out, indicating your current client details.
Save and send the file to your customer.

We collected all the tips on How to Make an Invoice on Google Docs

Our free invoice template google docs are very flexible. Once you build that perfect invoice using one of our templates, you get to save its basic version and send it to all your customers, without having to type the same stuff all over again. With our service, the sky's the limit.

Due to its adaptability, this Google Docs invoice template can be used to bill each client. With an invoice template PDF, you can tailor it to suit the needs of each individual client.

Pros & Cons to Create Invoices With Google Docs

There's a treasure trove of advantages of creating invoices with our Google Docs templates. Here are some of them:

Google Doc invoice template boast top-notch formats and come with all the important elements of a professional business document: they are sure to bolster your reputation;
the templates are customizable but still flaunt versatile default designs;
send your customized invoices to your customers fast: just add the required info to the previously adjusted template and send away;
invoice your customers on the go irrespective of your whereabouts;
Google Docs invoice templates are optimized for instant downloading and printing.

With regard to the drawbacks of using Google Docs for creating an invoice for sales, some people point out limited automation and the lack of possibility to use formulas. On the whole, the pros significantly outweigh the cons. Always remember that with Invoice maker by Saldo Apps, you will save your precious time and take more work off your hands.

FAQ

How can I use the Google Docs invoice template for creating invoices?

The Google Docs invoice template can be used to create professional invoices in the Google Docs platform.

Is it easy to customize the template using Google Docs?

Yes, you can easily customize the template using Google Docs by adding your company information, logo, and modifying the content.

Can I add itemized services or products and their prices in the template?

You can typically add itemized services or products, along with their respective prices, in the template.

Are there options for specifying payment terms, due dates, and payment methods?

The template often includes sections for specifying payment terms, due dates, and accepted payment methods.

Can I save and download the invoice created in Google Docs as a PDF or other formats?

Yes, you can usually save and download the invoice as a PDF or in other formats directly from Google Docs.
Also you can find more Basic Invoice Templates