Google Docs Receipt Template
Create, save and send receipts online with a single click!
Free downloadable Receipt Template Google Docs
Select the template format you want to use - download, customize, and send it with a single click.
Get the template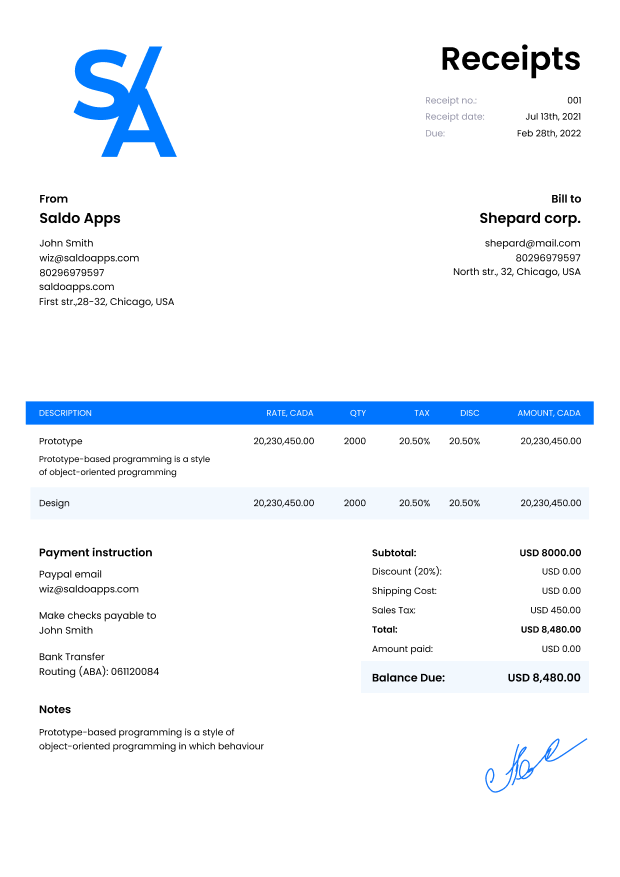 Do you need more Invoice Designs?
Customise your Invoice Template
Get Your Google Doc Receipt Template

Want to speed up the process of creating and sending receipts? Then use our ready receipt template Google Docs. Thanks to it, you have the opportunity to generate the required documents in seconds, from any device, and literally on the go. The form already has all the necessary fields so that you can provide clients with the required information in a professional-looking and clearly structured document.

When using our receipt template Doc, you just need to fill in the fields provided. If you are logged in as an authorized user, this process will be even faster because the details you previously entered are saved in your profile. You should put the following data in the blank:

information about your company, which is the executor of an order;

contact details of a client;

a list of services performed or goods delivered, their quantity, and the cost of each item;

applicable taxes, personal or volume discounts, shipping costs, and the total amount due;

date and method of payment.

Remember that all documents generated as part of the work for one client or order should serve as references for each other. Therefore, in the free receipt template Doc, you also need to specify the unique numbers you used to fill in the quote, estimate, or invoice template Google Doc. In case of disputes, it will be easier for you to detect an error or prove your case.

Although businesses use receipts less frequently than, say, quote templates, they can still be useful for several reasons:

maintenance of financial records;

conducting audits and filling out tax returns;

fraud prevention;

avoiding errors and inaccuracies.

You should fill out the payment receipt template Doc because both you and your clients' businesses may need it for the reasons described above.

Download Google Docs Receipts Easy With Saldo Invoice

Our forms are easy to customize, edit, and fill out, allowing you to streamline your paperwork process like a pro. Select receipt format Doc, Excel, PDF, Google Docs, or Sheets that suits you or your orderer best. Enter the required information by downloading the template to any device or filling it out on the generator on the website or in the application. Check the data for errors or inaccuracies and, if everything is looking good, send the file to the client by email or share it using a link. Our other forms like quotes, invoices, and receipts templates Word, Excel, or PDF and various categories of receipts like medical receipt book are also easy to fill out and send to recipients. All of them can be printed and saved locally if needed.
Also you can find more Receipt Templates