Do you need more Invoice Designs?
Customise your Invoice Template
Generate and edit professional invoices with Saldo Invoice from the laptop or phone in a few minutes. Fil in all necessary information, save and download. Sign up and start creating invoices. Invoice Maker by Saldo Apps.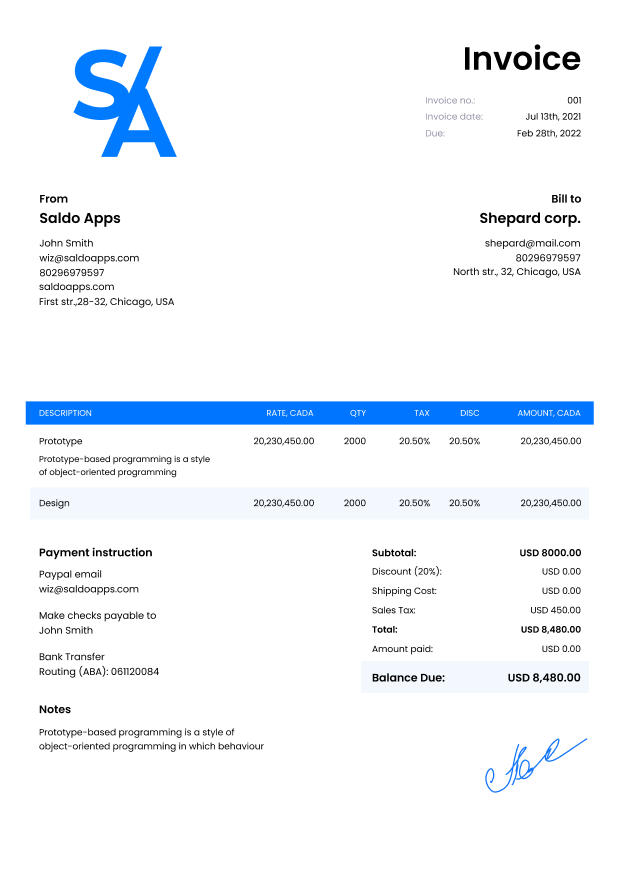 Step-by-step guide
Freelancers, entrepreneurs, and self-employed professionals should be able to maintain accounting records properly. This modern online tool allows you to process bills anywhere and anytime while speeding up the process along the way. To help you understand all its functions, we've compiled this step-by-step manual.
Template Customization
Want to leave a lasting impression on your clients with every aspect of your business, including your invoices? Believe it or not, a well-crafted invoice speaks volumes about your brand's professionalism and attention to detail. With online invoice generators, giving your financial statements that personal touch has never been simpler. Here's how you can transform them to represent your brand:
Logo Integration: Think of your logo as more than just an emblem. It's the face of your brand. Embedding it into your invoice instantly sets you apart, turning a plain bill into a piece of your brand's story.
Consistent Fonts and Colors: Your brand's fonts and colors are its signature. Ensuring these elements remain uniform across your billing documents not only looks good but also reaffirms your brand's identity.
Diverse Layouts for Item Details: Every business is unique, and so should its invoices. Choose from a range of layouts that cater to your offerings, be it a single service or multiple products.
Currency and Language Adjustments: Do you serve clients from different parts of the world? Forget about the currency and language challenges. Today's invoicesoftware can adapt to multiple regions, guaranteeing clear communication.
Subtotal, Tax, and Discount Computation: Modern invoice templates include functionalities that allow for automatic calculations of subtotals, applicable taxes, and any discounts. This both simplifies the invoicing process and ensures transparency and accuracy in every transaction.
Automated and Accurate Calculations: Let the tech handle the math. With inbuilt precision, you can trust the software to consider taxes, discounts, and more, ensuring each invoice is accurate to the last penny.
Remember, every interaction with your clients, down to the billing sheets you send, is a chance to reaffirm your brand's values and quality. By adding these personalized touches, you're not just billing but building trust and rapport.
Benefits
You deserve tools that work as hard as you do. Online services like Saldo Invoice simplify and generate invoices, elevating the entire process. It's not just about digital convenience; it's about making your life easier. Here's why so many businesses are making a switch, just like your brand.
Fast and Flawless Invoicing
Time's precious, especially in business. Tools like Saldo Invoice understand the nuances of invoice generation. Swap out those long hours of manual billing for speedy, automated invoices. Say 'goodbye' to errors and 'hello' to quick, spot-on bills every time.
Invoices That Make a Statement
With the right invoice creator, every bill you send becomes a reflection of your business. Why not make them look sharp? With online tools, each invoice isn't just about requesting payment — it's an extension of your brand. Stand out with financial statements that are as professional as they are uniquely 'you.'
Ditch the Clutter; Go Digital
Remember the headache of sifting through stacks of paper to find the needed bill or receipt? Those days are over. Online generators act as your digital filing cabinet. Every invoice you create or tweak gets stored efficiently, making reviews and audits a walk in the park.
Time Efficiency
The efficiency of generating invoices can free up hours in your business routine. Saldo Invoice provides tools that turn these aspirations into reality. Here's how:
Streamlined Invoicing Process
The extended hours you once spent on crafting invoices are now a thing of the past. With Saldo Invoice, it's straightforward: Input the details, and you're set. The ease and speed of this process transform billing from a chore into a breeze.
Smart Data Management
Repeatedly entering the same client details can be tiresome and error-prone. Saldo Invoice intelligently remembers client information, minimizing data redundancy. Not only does it reduce the potential for mistakes but also shaves off unnecessary minutes from the invoicing process.
Hassle-Free Global Transactions
Running a business internationally presents its own set of challenges, like dealing with various currencies. Saldo Invoice's multi-currency feature simplifies this aspect, allowing you to effortlessly bill clients in the currency they prefer. This means no more manual conversion or second-guessing exchange rates.
Professional Invoices
Invoices aren't merely transactional; they're a mirror of your brand's dedication and professionalism. Using tools like Saldo ensures that every bill you send out not only requests payment but also reinforces your brand's image. Here's how:
Uniform and Sleek Design
Consistency is key. An erratic invoice design can raise eyebrows. Saldo Invoice guarantees a uniform look and feel for all your financial statements, ensuring that they always present your business in the best light. This consistent approach underscores your dedication to quality and precision.
Make It Yours With Brand Elements
Your invoice can be more than just a bill; it's a branding opportunity. By integrating unique elements such as your logo and specific color schemes, Saldo Invoice transforms each bill into an extension of your brand narrative. This helps to continually emphasize your distinct identity to the clients.
Transparent and Clear Billing
Clients appreciate the clarity. By detailing every service or product along with its respective price, you eliminate guesswork. This level of transparency fosters trust, ensuring smoother transactions and bolstering your business relationships.
Personalized Billing
Think about the last time you received a personalized gift. It felt special, right? That's exactly how your clients should feel when they get an invoice from you – recognized and valued. Customizing your financial statements isn't just a "nice-to-have"; it's a powerful way to make your clients feel seen and respected. Here's why:
Choose the Right Layout: We're not talking about just another pretty design. It's about picking a layout that feels like "you" and makes things crystal clear for your clients. A layout that says, "I know my business, and I respect your time."
Make Your Brand Shine: Your invoice shouldn't be a generic piece of paper that gets lost in the shuffle. Make it scream "you" from top to bottom. From unique colors to the font you spent hours choosing, let them all play a part. Every time your client looks at it, they should think, "Yep, that's them. Professional as always."
Next time you send out an invoice, give it the personal touch. It's a small step for you, but it could mean a world of difference in how your clients see your company.
Preview and Download
Before hitting "send," take a moment. A quick preview ensures your financial statement looks just right and meets your standards. Once you're confident, pick the format that suits both you and your client:
Think about what your client would prefer. An instant email? A tangible printed copy? Whichever you choose, know that your attention to detail won't go unnoticed. It's all about making a lasting impression with every bill you send out.
It's often small things that stand out. With online invoicing maker tools, every transaction becomes smoother and more polished. As you chart your business path, remember that the right invoicing tool can transform not just your billing, but also the impressions you leave. Step into modern invoicing, and watch the difference it makes!
How to Create an Invoice Using the Invoice Generator?

Our online bill maker is an easy-to-use, simple invoice app that helps you issue payment documents and customize them for every employer. A sample has both required and optional fields. Below we describe each of them. The first time you open our software for creating invoices, you have to fill in all the requested info. In the future, it won't be necessary since the system memorizes parameters.

1: In the upper left corner field, insert your company's logo. The bill's details must be indicated in the upper right corner: number, date of formation, and due date. With them, your papers are convenient to process and allow recipients to navigate quickly.

2: Write your business details in the "From" box. It should include the company name, address, email, and phone number.

3: Put data regarding the client to whom services were rendered and who should deposit money in the "Bill to" block.

4: The following section is called "Description" and is used to make a customized invoice since you indicate what items were provided, their quantity, and price. Two graphs are available in the document by default, but you have an option to insert as many lines as needed.

5: Fill in your billing info. Add available payment options (e.g., PayPal, Stripe, checks, etc.). This way, your customer will know how to deposit money right away and will be able to do it on time.

6: After that, go to the "Total Amount" block. Include a personal discount for a client, shipping costs, and taxes (for each point or the entire sum) in this section. The system will calculate the overall sum automatically. Also, we have a tool to calculate invoice price, if needed.

7: In the "Notes" part, leave comments, recommendations, delivery nuances, and other information necessary to a customer. It is essential when you start cooperating with new firms. Such an attitude will show that you are focused on customer comfort.

Generate an invoice and adjust it using our online invoice builder on the go. View the finished form, save it to your library, send to a recipient, print, or download to your smartphone or tablet.

Show more

Is Invoice Generator Safe To Use To Create Invoice ?

The Saldo Invoice app is entirely safe to utilize. We comply with the terms of our privacy policy and are committed to building a secure workspace for our clients. The software collects anonymous and aggregated visitor data and transfers it to third parties solely to improve our service. We may disclose such information only in cases provided by law and for our fraudulent activity protection.

Essential Elements of an Invoice

Now that you know how to generate invoice online with our tool, we'll analyze the basic elements required for each file.

1. Headline

It is the form name. You may leave the default title, replace it with "Estimate," or turn an invoice template into other types. The header should reflect the file's essence and help a recipient understand the content.

2. Logo

Having your company logo is optional but desirable. It lets you prepare a professional invoice that looks presentable. The logo serves as an identifier, and accountants determine the sender quickly.

3. Form details

This content allows you and customers to navigate billing papers. With its help, you can also filter documents by status and date. Indicate the ID, invoice making date, and payment term.

4. From

To make your own invoice, write down the details of your company or business that provided services in the "From" part: the organization name, address, email, phone number (-s), etc.

5. Bill to

Here you need to enter the info of those who received your service and should pay. Write down data of an individual or an organization you cooperate with.

6. Description

This paragraph includes a short description of all the products you have provided. List the items' names and specify their quantity & cost per unit, and the system will automatically calculate the full amount for everything. It is recommended to include itemized fees here, if any. Creating invoice online, you may add as many columns as you want. If you have given different types of goods, try not to mix them, but to group and list them in order. The clear structure contributes to faster file analysis.

7. Payment options

Fill in the information on how a user should pay for goods: PayPal, checks, bank transfer, or other ways (specify them manually). Add notes or recommendations as needed. Having clear instructions, a payer will have no issues, and the money will arrive on time.

8. Total amount

Add information about discounts, taxes, and shipping costs, and the Generator will calculate the total amount that an orderer should pay.

Show more

Why Is Making an Invoice with a Generator the Best Choice?

Opting for online invoicing tools allows eliminating slow manual work and optimizing customer interactions. Our app and its web version offer authorized members a wide range of opportunities. The platform saves user data and inserts it into a new document, which speeds up the work. Invoice Maker also provides printable blank invoice templates.

You can determine whether a client has read a form, filter papers in the order you want, look through reports on funds received for a specific period, and see the expected sum. This tool is useful for business as you have the opportunity to issue the necessary papers anytime. Well-designed and organized files let recipients analyze them quickly and deposit money on time. It may have a positive effect on your reputation and cause buyers to return to you. It is also versatile and suitable for use in various fields of activity.

Show more

FAQ

What is the purpose of an invoice generator?

An invoice generator is a tool used to create professional invoices quickly and easily, helping businesses streamline their billing processes.

Can I customize the invoice generated by the tool?

Yes, most invoice generators allow customization options, including adding your company's logo, contact information, and other branding elements.

Is the invoice generator suitable for businesses of all sizes?

Yes, the invoice generator is designed to cater to businesses of varying sizes, from freelancers and startups to established enterprises.