Invoice your customers in seconds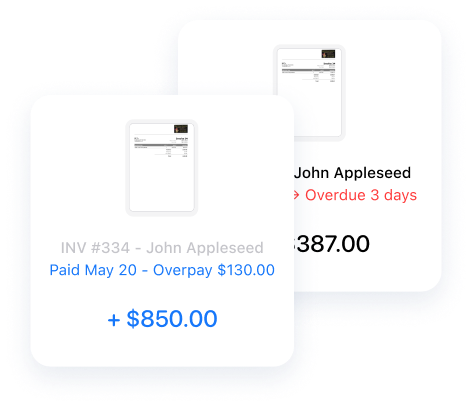 Create, edit, download and send invoices like a Pro
Invoice Maker is highly intuitive, easy-to-navigate software for invoice generation that enables you to promptly notify your customers of the amount they owe you for your products or services.
This business invoicing tool enables you to save and use payment details from previously completed documents for time-saving purposes so you can only add minor changes in the editor. Apart from this, the app will store your customer data for potential future deals.
With essential details stored conveniently by Saldo Invoice Maker, you can make a quick invoice on the go using your iOS or Android mobile device. When the document is ready, you can choose to save, print, or email it to the receiver, or send it to your customer via a link. The latter option enables you to track the invoice to see if the receiver has read it. Every fast invoice will switch between statuses to keep you informed.
Invoice Maker is also the ultimate solution to document mess as it organizes your invoices in a convenient manner by date or status. Finally, why not treat yourself to some encouraging figures? The app can generate statistical reports to let you know where your business is going.
Simplify Billing With Saldo's Invoice Platform
Being successful in our fast-paced, tech-driven business world means getting things done well and quickly. Invoicing your customers has to be a highly efficient process. That is because, when performed promptly and accurately, it ensures you will get paid on time and your business will continue to run smoothly.
Today, business owners have plenty of reliable and easy-to-use solutions to help them keep track of their invoicing routine, one of the best being Saldo Invoice. This versatile and user-friendly tool makes the invoicing process more swift and convenient.
Create, Edit, and Download Invoices Like a Pro
With Saldo Invoice, even a person completely new to finance can become an invoicing pro in no time. Whether you are charging for items sold or services provided, Saldo'squick invoice creator walks you through the entire process smoothly, allowing you to quickly build polished payment receipts that perfectly match your brand, add details, customize, and set prices easily. You can also edit these documents in real time to ensure top-notch accuracy before sending them out.
Save, Print, or Email the Invoice to the Receiver
When your payment document is ready, Saldo's product offers different ways to share it. You can save it on your computer to look at later, print a hard copy if needed, or use Saldo's Gmail invoice feature to email it to customers and vendors. Such flexibility ensures your clients can get their bills in the format they prefer, making payments easier and keeping your customers happy.
Save: Keep a digital copy for your records.
Print: Make hard copies for your own use or to send to customers who prefer dealing with paper bills.
Email: Go paperless and send bills directly to your clients through the platform's Gmail invoice feature, ensuring secure and prompt delivery.
Saldo's quick invoice creator ensures that your professionally customized financial statements always reach the right hands in the proper format.
Invoicing Conveniently by Date or Status
Saldo makes handling your billing documents super easy. Using the platform's advanced features and filters, you can quickly locate and sort your bills by date or check to see if they have been paid. This helps a lot when you have plenty of accounts to deal with, keeping your money matters orderly and bringing clarity and a sense of structure where there was once confusion.
Generation of Statistical Invoice Reports
It is impossible to make informed business decisions without knowing your invoicing patterns, like when you send out these demand notes, how much they usually are, what you are charging for, and how reliable customers are with payments. Saldo goes beyond simple receipt building and customization by offering two robust features every business needs – invoice summary report creation and invoice statistics.
The invoice summary report is a broad review of your invoicing activities and gives you valuable information on how well you are doing, billing-wise. The invoice statistics option offers a detailed look at your invoicing history, helping you identify patterns, track down outstanding payments, and make more accurate revenue forecasts. With these two, you have the power of data-driven insights at your fingertips and can plan effectively and optimize your financial operations.
Creating and managing invoices does not need to be a hassle. With the Saldo platform, you can use advanced tech to easily make, handle, and follow all your business bills. Forget manual calculations or tedious paperwork – the invoicing process is now fast, precise, and stress-free!
FAQ
How quickly can I invoice my customers using SaldoInvoice?
With SaldoInvoice, you can invoice your customers in a matter of seconds, thanks to its streamlined and efficient invoicing process.
What features does SaldoInvoice offer to simplify customer invoicing?
SaldoInvoice offers a range of features including automated invoice generation, customizable templates, easy customer data management, and secure online payment options, all designed to simplify and expedite the invoicing process.
Can I customize the look of my invoices using SaldoInvoice?
Absolutely! SaldoInvoice provides customizable invoice templates, allowing you to personalize the look of your invoices to match your brand's identity and create a professional impression.
How does SaldoInvoice help ensure timely payments from customers?
SaldoInvoice helps ensure timely payments by providing automated payment reminders, enabling you to set up notifications that gently nudge customers to fulfill their invoices on time, thus improving your cash flow.
Is customer payment information secure when using SaldoInvoice's online payment options?
Yes, SaldoInvoice prioritizes security. The platform employs advanced encryption and secure payment gateways to safeguard customer payment information, giving you and your customers peace of mind when making online transactions.