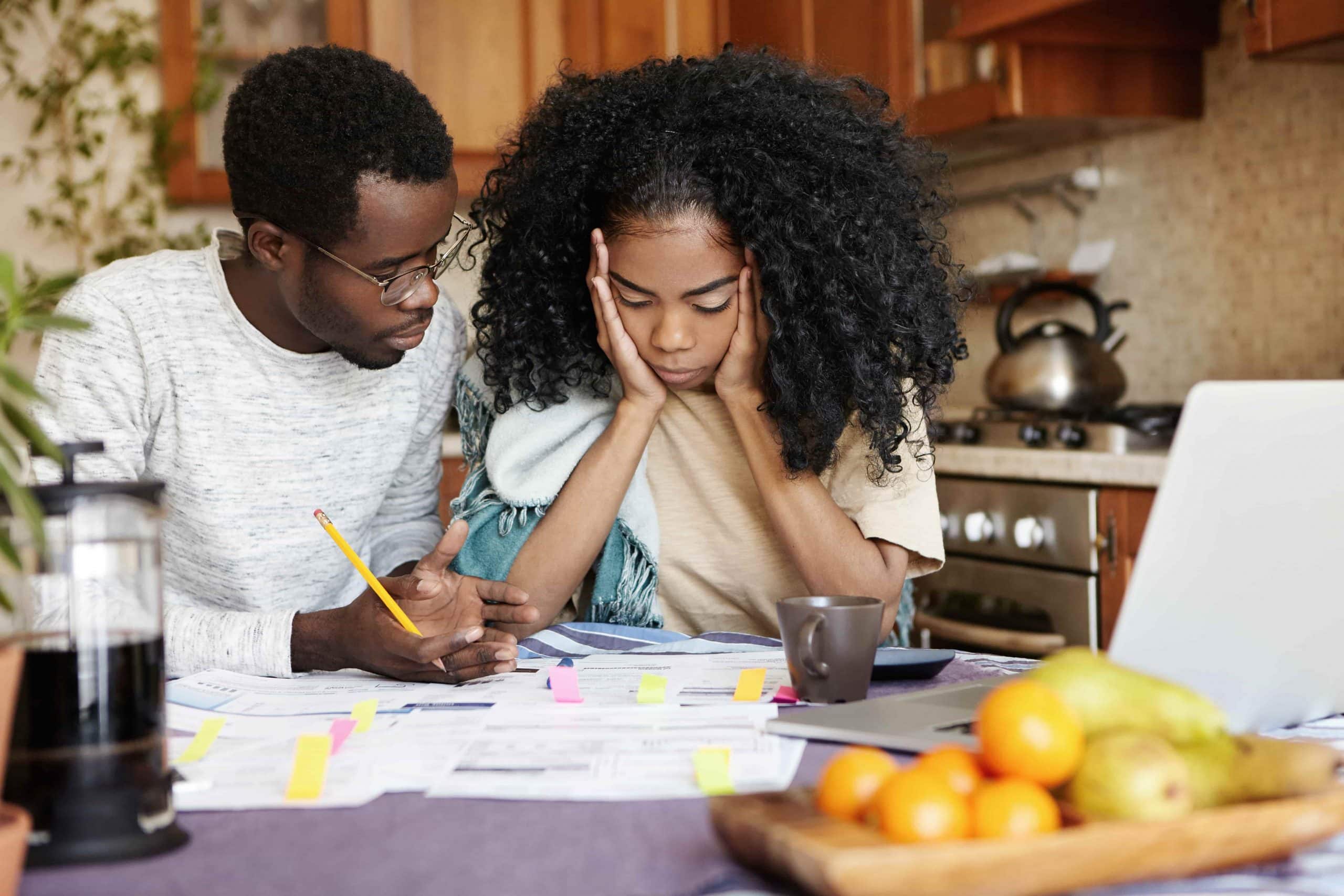 How to Make an Invoice in Word
Microsoft Word is one of the most commonly used programs in everyday life. It offers users ample opportunities for working with documents, including the creation of payment papers. In this article, we'll look at all the options for making an invoice with Word and share expert tips about using invoice templates.
How to Create an Invoice in Word
The new project in this program is a blank sheet that you can turn into any form your business needs. Here are some simple steps on how to make invoices on Word. Since you build a bill from scratch, we recommend that you familiarize yourself with such forms' features first, for example, in our "What is an invoice" article.
Open a new file
Launch the program on your device and pick the first option offered to create a new doc. You'll get a completely blank sheet on which you need to insert the necessary lines and fields manually.
Generate a header
A header is the "face" of any MS Word custom invoice template, and it should be very informative. Put the file's unique ID, the name "Invoice," the issue date, and the deadline for compensation.
Specify your contacts
Provide all information about the executor: the name of your business entity, phone number, fax, exact address, email, etc. If you've got a logo, attach it to the top of the sheet.
Add customer details
Next, specify the contacts of the person or company that acts as an orderer. This part should contain the same data you provided about your company.
List goods and services
The key to understanding how to create an invoice on Word like a pro lies in learning how to enumerate all the items rendered. Specify the products, services, quantity of each item, unit or hourly cost, applicable taxes, or fees. Based on it, you should calculate the subtotal. It's best to build a table for these records.
Calculate the total
To the above amount, add shipping costs, discounts, and other charges not included in the previous list to get the final sum payable.
Add payment methods and terms
Try to offer customers as many various payment methods as possible so that they can choose the most suitable option. Add payment policies and a warning about late payment fees.
Save the file
Double-check the text for typos or errors, and if the data is correct, save the file. You can do it in .docx format for an invoice in Word if you plan to add extra info or choose any other option available. If the paper is ready to be sent, save it to PDF via the "Save as…" tool.
Does Microsoft Word have an invoice template? Yes, the software offers several ready-made forms with fairly flexible customization tools. The option to create documents from scratch is suitable for those who like to keep all the nuances under control.
How to Make Word Invoice Template With Invoice Maker by Saldo Apps
Making invoices on Word with templates is the most handy way. You don't have to worry about forgetting to put some critical information, as the blank fields will tell you what to write and where. Here is how to make a professional invoice using our service.
Download a form
Our catalog contains forms for a variety of businesses in different formats. Download our invoice template in Word to your computer or laptop, open the file, and start filling it out.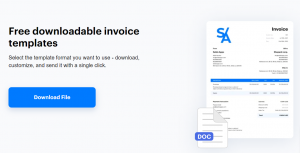 Finished file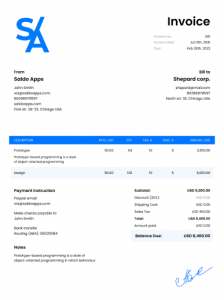 Enter data in the header Indicate the doc serial number, the date of its creation, and the date by which you expect payment to be received. If your company has a logo, paste it in the top left corner.
Specify the sender and recipient The sender (or performer) is you or your business entity. Include its name, contact details, website (if any), and address. Info about the recipient (or orderer) should contain the name of the responsible person, phone number, email, etc. If you provide shipping, be sure to put a shipping address.
List items The order description should include a complete list of items (products and services), the amount and cost of each item, and taxes. If necessary, you can add clarifying comments. If in doubt about what to put in this block, see an example of an invoice in Word.
Provide payment instructions
This section includes all the ways you accept payments. You can specify a PayPal email, add bank transfer info, or enable any other convenient method. Add tips and recommendations, and don't forget to remind your payment terms.
Calculate the total
Include shipping costs, discounts, interests, and sales tax in your doc and estimate the final sum due. If a customer already has money on their balance, this information should be reflected in the bill.
Save and send the file
Choose the computer invoice format in Word that fits you and save the finished document. You can forward it to a client electronically or print it out and hand it over in person.
Now, you know how to make an invoice on Microsoft Word from scratch or with templates. If you prefer cloud storage documentation, you can get the Google Docs invoice template, which works similarly.
What Are the Advantages and Disadvantages of Creating an Invoice in Word
MS Word is popular with many users for a reason. It has many distinct advantages. However, along with them, it also has disadvantages. Consider all the nuances of working with this program below.
Advantages of using Word for invoicing
This software offers both a large selection of templates and the instruments to make payment documents from scratch. Both options are free. Templates ensure that you don't miss important information and that all your notes are clearly structured. When building your own form, you can personalize it to your taste: modify the font, color, add tables and logos, and much more. At the same time, you have the opportunity to save an invoice draft (Word) in almost any format that MS Office offers. A locally saved document can be reused as many times as you need.
Disadvantages of using Word for invoicing
Using this software for billing clients is considered outdated since the whole process is manual. For instance, the Invoice Maker app memorizes the data you entered and puts the info in the required lines. Any guide on how to do invoices on Word involves manual entry of all data. You can make mistakes and typos and also waste time. Compared to Excel, this program lacks formulas that speed up and simplify the calculation of totals. Besides, such payment documents are pretty tricky to track. You can create bill in this invoice template excel, just fill it out, then save and download. Therefore, the best decision is to opt for a ready-made business solution.

Follow these steps to make your Word invoice template and get paid faster
With quality tools at hand, the billing process becomes simple and convenient. Upon completion of an order, do the following:
Download our Word template from the catalog of forms to any convenient device and start filling in the ready-made fields.
Enter information about the paper, the orderer, the contractor, the work performed, and the total amount into the file. Make the list of items detailed so that clients clearly understand what you ask them to pay for.
List all available payment methods. You can choose PayPal, bank transfers, checks, or other ways to receive money.
Save the finished document in one of the proposed formats.
Send the finalized form to the recipient via email or messenger. It can be printed and submitted by post or handed over personally.
The recommendations on how to do an invoice on Word are easy to master. Utilizing ready-made templates facilitates your task and speeds up the provision of compensation from clients.
What is a bill precisely, and why is it important?

An invoice details the specifics of a transaction between a seller and a buyer. It often includes information about the provided products or services, their quantity, price, and payment conditions. Invoicing is important since it serves as a record of the transaction for future use and makes sure that everyone involved is aware of its intricacies.

How can I create an invoice in Word the best way possible?

In order to create an invoice in Microsoft Word, you must first select "Get the template" and either copy an existing template or create your own. The necessary information must then be entered, including the name and contact details of your business, those of the client, and the particulars of the delivered items or services. You may save the invoice after entering all the relevant information and email it to your client.

What details have to be printed on a bill?

The invoice should include all parties' names and contact details, the transaction's date, a description of the goods or services provided, their amount and cost, any relevant taxes, and the conditions of payment. In order for the customer to know how to pay you, it is also a good idea to mention your payment information, such as your bank account or PayPal information.

When I generate an invoice in Word, what format should it be in?

It's crucial to pick a professional layout with all the relevant information when creating your invoice in Microsoft Word. A legible font, complementary colors, and a neat and well-organized layout may be used to make your own invoice template or you can utilize one that has already been created. Include your company's logo, contact details, a detailed explanation of the offered goods or services, along with any connected charges.

Can I modify my invoice so that it features my logo and colors?

Yes, you may use your logo and colors to design your invoice in Microsoft Word. This might contribute to creating a more united and professional image for your company. Choose a typeface that goes well with your brand's colors, corporate logo, and other design elements. To further strengthen your branding, you may also put a personalized message for the customer and your company's contact details.
Related Templates
Word Invoice

You May Also Like

Creating a Comprehensive Purchase Order Template in Excel Purchase orders (POs) serve as official documents…

Excel Purchase Order Template: Streamlining Procurement Processes As the world of business transactions becomes increasingly…

Collaborative Estimating With Google Sheets Templates The success of any project relies on effective collaboration…