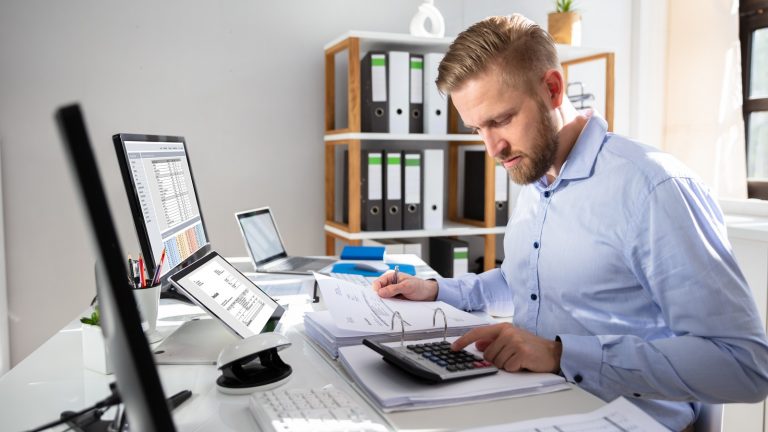 How to Create an Invoice in Excel
Invoices are one of the key documents of any business activity. To get compensated on time, mastering the filling of such papers is your priority. You'll find out how to create an invoice with Excel on different devices and use ready-made templates from this article.
How to Make an Excel Invoice Template (Windows)
Excel is a handy spreadsheet tool. It works across many major platforms and allows you to personalize content to suit your requirements. If you don't know how to do invoices on a computer with Windows OS, here is a quick guide with basic steps.
Run the program
To start creating a paper, launch Excel on your PC. Filling out a form will be faster if you have all the records about clients and the goods rendered at hand.
Find a template
First, users are prompted to pick one of the templates. To see the entire list, click the right arrow. Type the word "invoice" in the search bar, and the software will offer you all available options.
Choose a form
Using Excel to generate invoices is the best option, as it offers you lots of forms to choose from: a basic invoice, hourly bill for services, pro forma, shipping, and many others. Preview them and select the one that suits you.
Customize the form
Open the option you like and start customizing it. Since all the required fields are already there, you only need to enter the info:
doc ID and creation date;
your business details;
the orderer's data;
the listing of all provided products;
the total sum payable;
billing terms, methods, and policies.
Save the paper
Now you know how to fill out an invoice. Review all data for errors or typos, and if everything is fine, save the file. Choose a format of invoices in Excel: .pdf or .xls. The first one is convenient for submitting to customers because it's impossible to modify it. The second one is suitable if you still plan to put some info in the form.
The finished doc can be forwarded to orderers electronically, for example, via email, or printed and handed over personally.
How to Create an Invoice on Excel (Mac)
The process of creating invoices from Excel spreadsheets on Mac is not much different from working with the Windows version. Here is what to do to generate invoice:
Launch Excel
Find and launch the software on your device. An empty table does not open right away; To get started, you'll be prompted to pick a suitable template.
Find a template
To make things easier for yourself, don't look for the form manually. Instead, turn to the search bar to filter out inappropriate templates. Enter "invoice" and explore the options.
Select a form
In the library, choose an invoice template for Excel Mac that fits your activity the most. Both simple forms with a minimum of the required data and more detailed ones that take into account various nuances are available here.
Personalize the template
When you open the file, you'll see empty blocks ready to be filled in. Here is how to set up Excel templates:
put the date of the doc creation and its ID in your system;
add info about your business entity;
provide contact details of the client for whom you completed the order;
enumerate the services  or goods supplied, cost, and subtotal;
add fees, taxes, and total sum;
specify payment deadlines and methods.
Save the file
Save the finished document in .xls format if you still plan to revise it and make changes. When the file is ready to be sent, convert it to invoice template PDF so that the recipient cannot edit its contents. Now that you know how to make an invoice in Excel on Mac, you can easily make expert bills and submit them to customers in any convenient way.

How to Create an Invoice in Excel
Although templates are considered the best option because they make it easier to issue docs and minimize the possibility of errors, you can form a bill from scratch. Here is how to do an invoice on Excel on your own:
Create a new workbook
Run the program on any computer or laptop and pick the first of the proposed objects, a blank workbook. You'll get an empty spreadsheet. Start filling it out.
Compile a header
A summary of the basic information about the document and the company that issued it should be at your form's top. Include the business name, logo (if any), date when the bill was made, and create invoice number. Please note that the title should contain the term "invoice."
Enter orderer data
Details about the client for whom you completed the order should be the following: personal or company name, email, exact shipping address, and phone number for communication.
Specify the deadline
Put the exact date by which you expect money to be received or use the business term "Net…" to indicate the number of days to provide compensation. For example, "Net 30" means that they have 30 days from the issue date.
Describe the items offered
The main part of any bill is a detailed list of services and goods that you provided as part of an order, as well as their quantity, prices, and subtotal. Using Excel for invoicing is convenient because you don't have to estimate the amounts manually; you can apply formulas. For example, type in the cell where the subtotal should be "=SUM(D5:D15)" to sum up all the scores in rows 5 to 15 from column D.
Estimate the total sum
Add taxes, fees, and shipping costs to the subtotal and subtract discounts (if you give them) to get the total amount payable. Here you can also use the previous formula.
Enter payment terms
Indicate the payment methods available, the fees that will follow in case of a delay in compensation, and other policy details that customers need to pay attention to.
Review the text for errors and inaccuracies, save it to your device, and submit it to a client. Now you understand how to make your own invoice in Excel in five steps.

How to Create an Invoice Template in Excel With Invoice Maker by SaldoApps
If you do not know how to make a billing statement in Excel or do not want to spend a lot of time on it, the easiest and most convenient option is to get the ready-made Excel invoice template, which you can find in our catalog. Download the file to your PC and start filling it out.
Click on the bottom to create an invoice in Excel fast.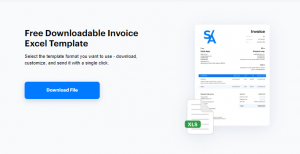 Provide the following data: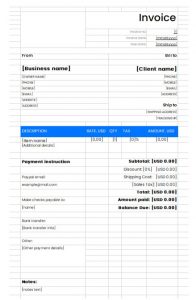 form ID, creation date, and deadline;
information about the company or organization that completed an order;
the orderer's contact details;
description of the order, which includes: item names, rates, quantity, and applicable taxes;
payment methods, details, and instructions;
the total sum including all goods, fees, interests, discounts, and shipping costs;
comments or tips.
Follow these steps to make your Excel invoice template and get paid faster
Here is the filled template: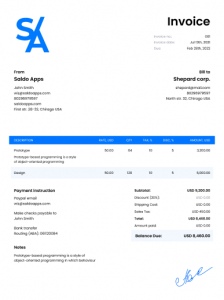 You've submitted an order, and it's time to get your money. Here is how to organize the invoicing system in Excel:
Choose the template you need from our library and download it to your device.
Each form already contains all the essential fields that you can customize to fit your activity.
Add all available payment methods. Provide customers with several options to choose from so they will definitely find the convenient one among them.
Save the finished paper locally, but don't forget to make sure you didn't make any mistakes or typos before doing so. Also, we recommend converting it to PDF format for sending to a client, which protects the data from editing.
Send the file by email or in any other convenient way, as well as print it out and hand it over to a recipient in person or by mail.
We hope that, after reading this guide, you'll no longer wonder, "how can I make an invoice in Excel?" Use our ready-made templates to give your orderers perfectly structured and professional papers. Additionally, we advise using a
free invoice template PDF
for small business owners.
Fill in Information About the Supplier and Client
In creating an invoice in Excel using templates, ensure supplier and client details are included. Start with supplier's information: business name, address, contact details, and business registration numbers. Follow with customer's data, including name, delivery address, contact details, and customer ID numbers. This critical data aids in automating delivery and tracking processes.
Calculation of Taxes and Discounts
Next, the invoice should have a clear section for calculating taxes and applying discounts.
In the taxes section, include the tax rates that are applicable to the products or services provided. Excel's functions and formulas can then be used to calculate the tax amount based on these rates. For instance, if a 10% tax applies to a product that costs $100, the formula "=B5*10%" can calculate the tax where B5 is the cell containing the product price.
The discounts section should follow the same structure. If discounts are given, list them clearly and use Excel's calculating feature to subtract them from the subtotal.
Invoice Design and Formatting
When you have all the necessary details on your invoice, improving its look with styling and formatting can make it more professional. Excel has numerous features and formats for improving the aesthetics and customizing your document. Proper formatting can also enhance the readability of your invoice.
In addition to styling, incorporating your business's logo and branding can give your invoice a professional touch. This can be done by inserting your business logo at the top and using brand colors and fonts throughout the document.
Printing and Sending an Invoice
Before printing and sharing your invoice, ensure that you save it in your desired format. Excel offers multiple saving options, such as .pdf and .xls. As mentioned before, PDF is more suitable for sending to clients as it prevents modification.
There are several ways to send the invoice to a customer:
Email: You can send it as an attachment via email. This is the quickest and most efficient method.
Print and hand-deliver: This method is suitable if your customer is nearby.
Mail: If your customer is further away, you can print it out and send it through postal mail.
These tips and shortcuts will help you generate professional-looking invoices in Excel, making the billing process more efficient.
How can I create an Invoice in Excel with Saldo Invoice?

It's elementary, just roll up an article, and there you will see the big "Download File" button. Click it, and you'll get on the page with our Excel template.

What is the difference between invoices in Excel and Word?

There is a minor difference in formats only. While choosing a service you will use to send an invoice, don't forget that it may not support any format, and a client can face issues opening it.

Can I choose Invoice in Excel for any business?

Of course! Use this template for any business, or you can select a specific one from our large list of templates.

Does your site offer invoices in Excell only?

No, you can download invoices in PDF, Google Docs, Google Sheets, or Word. You can locate them above in the "Invoice Templates" list - "Basic Templates."
Related Templates
Google Sheets Invoice Template

You May Also Like

Invoice Financing: A Guide to Unlocking Working Capital Need fast funding for your business? Invoice…

Sustainability in Invoicing: Reducing Your Carbon Footprint Have you thought about how your invoices affect…

Invoice Tracking and Payment Reminders: Best Practices Managing invoices and keeping up with payment reminders…