How to Fill Out an Invoice?
Once you've completed your project and customers are satisfied, it's finally time to get paid. To speed up payment and eventually get your hard-earned money, you need to properly fill out all the elements of an invoice. If you're not good at billing your clients, they will most likely postpone their payments or even neglect your bill altogether. Now, if your approach to
creating quotes online
for your customers works for you, not against you, it brings you the following perks:
your invoices reflect your business;
you build rapport with clients;
you encourage them to pay you;
you speed up the payment process.
Interested to know more? In this post, we'll let you in on some excellent billing strategies, as well as share tips on filling out an invoice the right way. By the way, if you are looking for new clients – on our team's behalf, we do recommend Jooble as a great platform with a surprising variety of part-time jobs for specialists who offer their services as freelancers. Thus,
Jooble
and
Invoice Maker
are just perfect for you to make money on win-win terms without extra hustle.
What to Include on an Invoice
Take a browse through this checklist to ensure that your
template for invoice
includes all the necessary points: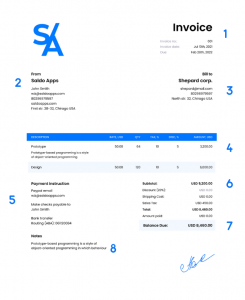 your business name and contact details;
billing date and payment due date;
invoice number (also referred to as invoice ID);
client details;
list of services provided;
subtotal of each service;
total amount due, including taxes;
payment requirements;
personal note.
All the aforelisted details should be injected seamlessly into your invoice design, along with your brand's unique personality. If you want to achieve this level of professionalism without spending too much time on the affair, start using top-level invoicing software like Invoice Maker 2. With an efficient billing app at your fingertips, you will excel in sending invoices for business — and save lots of time (read as money) along the way.
Why Proper Invoicing Is Important
Proper, consistent billing is a vital aspect of running a small business. Excellent invoice management bolsters nonstop cash flow and aids in relieving bookkeeping stress. The mission of professional quoting is to make paying easy and convenient for your clients. To achieve this, you'll need to develop a straightforward strategy for creating, sending, and using your bills. Here are the main reasons why polishing your
word invoices templates
to perfection is paramount:
it enables your clients to trust you;
it helps you get paid faster;
it saves your time;
it boosts your professionalism;
it enhances your branding efforts;
it keeps you organized;
it's environmentally-friendly;
Last but not least, billing becomes as easy as ABC once you start using a good invoicing app. You finally get to focus on dealing with the tasks that bring in the money. Less paperwork equals greater value, as well as a much more streamlined business.
Best Tips for Creating Invoices
A properly designed and promptly sent invoice is a promise of fast payment. According to recent reports, only 63% of bills are paid on time, while the rest are left neglected. One of the main reasons behind the overdue bills lies in the vague instructions that ultimately make customers delay the payment instead of initializing the transaction immediately. How do you fill out an invoice correctly? If that's what you want to learn more about, follow the below tips from our experts:
Make sure your billing email is as clear and easy to understand as possible.

Business invoices should have a uniform how to fill out invoice follow when you fill out an invoice, to create a consistent look and feel for your invoices.

Send it to the right person.

Make sure you include the correct point of contact for invoicing.

Send it immediately.
List your payment terms.

Ensure you work with a variety of payment solutions.

Including the payment methods for complete invoice your business accepts and any late fees clients will incur for missed payments.

Provide discounts for early transactions.

Add a subtotal after the last line item when prepare an invoice, then enter the discount after the subtotal.

Follow up like a pro.
Start using reliable billing software.

Focus on the Important Stuff

If you send a multitude of invoices to your clients on a regular basis, consider automating the process, for example, using an already prepared blank invoice or using a great billing app will prevent all the loss of time and direct your efforts to the most important thing i.e., bringing the revenue in. That polished Saldo Invoice app may be just a few taps away.
Supplier and customer identification and information
The accuracy of the information included on an invoice can be crucial for successful payment processing. Start by correctly entering the contact information and details of the supplier. This usually includes:
business name
address
contact number
any tax registration numbers
Equally essential is the accurate indication of customer data and the delivery address. Ensure the client's name, contact, and billing address are accurate. If the delivery is made to the wrong address, or to a wrong contact, the payments can be significantly delayed.
Calculation of the total amount and taxes
To enhance clarity, itemize the cost of goods or services provided, including quantity, unit price, and line total to get the subtotal. Then, calculate the tax amount, adhering to local tax laws, and add it to the total.
Terms of payment and terms
A key part of successful invoicing is establishing clear payment terms and deadlines. Will it be Net 30, Net 60, or due upon receipt? Clearly indicate the due date on the invoice.
Another important element is including accepted payment methods and details. The easier it is for your clients to pay, the sooner you'll get paid. If you accept bank transfers, include your bank information. If you use digital payment services, add appropriate instructions.
Invoice design and formatting
The look of your invoice can enhance your professional image and make you stand out from the crowd. A well-organized layout and clear design is easier to read and understand.
To make your invoices more professional, incorporate your logo and branding elements like color schemes and fonts. This also enhances consistency, especially when you're using different platforms for numbering and tracking.
Signing and sending invoice
Before sending out an invoice, ensure it's appropriately signed on behalf of the supplier, a step that involves meticulous proofreading. This serves as an authentication indicating the invoice is approved for payment.
Finally, preparing and sending the invoice to the client completes the process. This can be done via email, post, or a billing system. Always proofread and check everything one last time before hitting the send button. After all, a single mistake can lead to a significant delay in payment.
Remember, creating and sending an invoice doesn't have to be a complex process. By paying attention to these crucial details, and customizing your invoicing to fit the needs of your clients, you'll make the payment process easier for both parties.
Is there a universal invoice template for every type of business?

Yes, you can choose one of the basic templates for your business. But, it may appear to be incomplete following your business specifics. We recommend using a particular sample for issuing the invoices.

Why should I use a template for invoicing?

Templates are an effortless way to create professional invoices. You don't need to waste much time making it by yourself. Also, while using an app you can see all clients' payments status and control them.

Where can I get the template for my type of business?

Check Invoice Maker! We offer 500+ types of templates. Go find yours

here.

What are the advantages of using digital invoicing?

With digital invoicing services, you can create your document in minutes without spending personal or work time on it. Your customers will receive a comprehensive bill with clear instructions and payment information. Using a ready-made template reduces the risk of errors that can occur when creating manually.
Related Templates
Corporate Invoice Template

You May Also Like

Creating a Comprehensive Purchase Order Template in Excel Purchase orders (POs) serve as official documents…

Excel Purchase Order Template: Streamlining Procurement Processes As the world of business transactions becomes increasingly…

Collaborative Estimating With Google Sheets Templates The success of any project relies on effective collaboration…