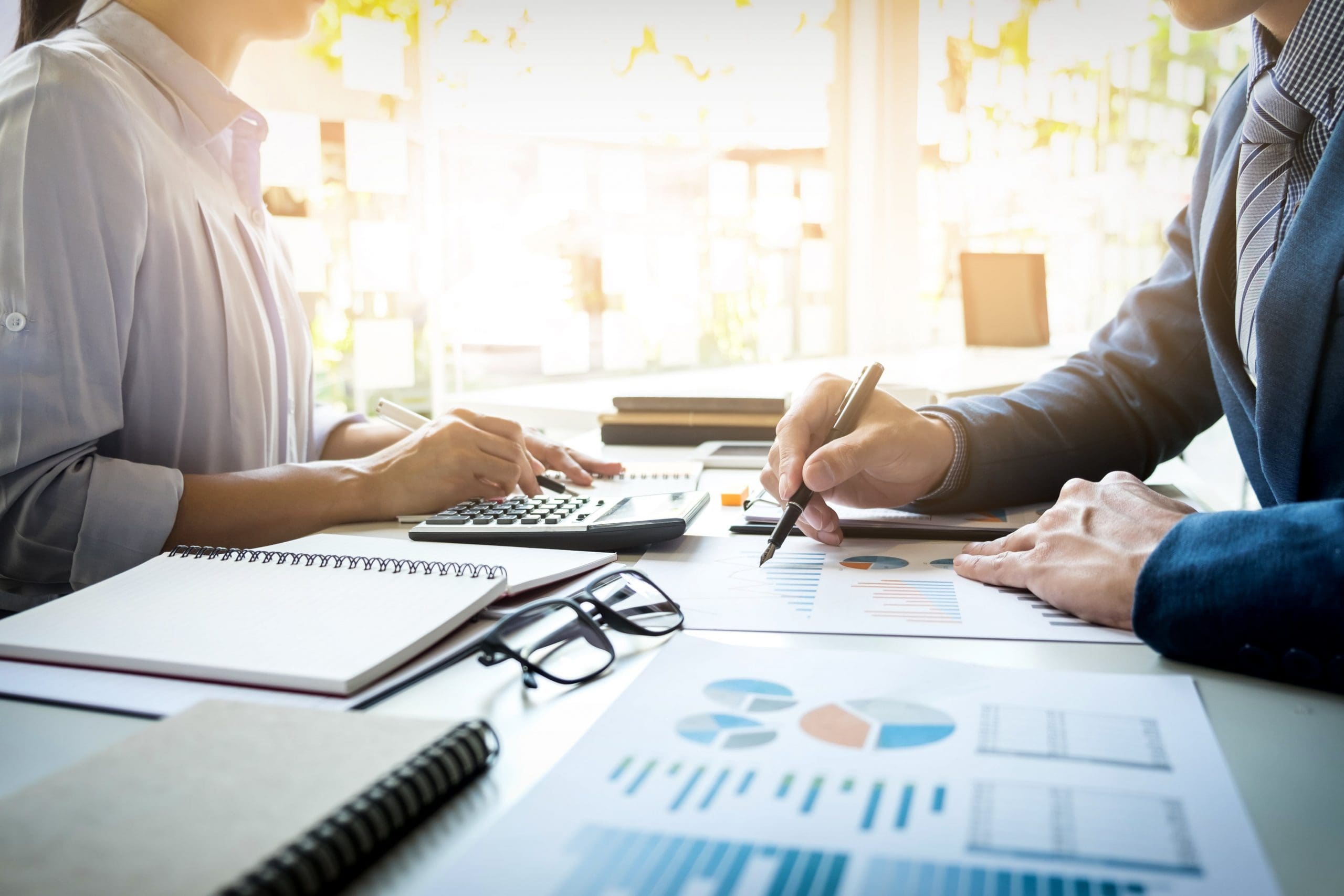 How to Invoice for Consulting Work?
The term "consultant work" is quite broad and can mean the activities of specialists of various specialties. They are united by the fact that they provide their clients with a service in the format of expert opinions on a variety of issues.
They may be responsible for conducting research, analysis, summing up, and finding options for solving a problem or ways for further business development. Whatever industry you work in, you need to know how to invoice as a consultant correctly to get paid on time. In this article, we will analyze the features of such an activity, as well as share professional tips about how does a consultant get paid.
How Do Consultants Get Paid?
How do consultants charge for their services? As a rule, an hourly payment is applied within service-based businesses, depending on how much time an expert spent on completing the assigned task. It is the best option when working on complex or large-scale orders when it is difficult for you to foresee all the details.
However, there are other professional services billing options. For example, there are cases of payment per project with a flat rate when you stipulate in advance how many hours it will take you to complete an order. In this case, the total amount is fixed. There is also a method when you negotiate with a customer on when and for how long you can be available for consultations. Such a freelancer is considered to be on a retainer and receives a fixed, predetermined monthly salary.
Of course, you should discuss the payment format with each client in advance, even when signing contracts early. This way, they'll clearly understand how to pay a consultant they hire. The choice of the optimal option depends on what kind of services you provide and what result a customer wants to achieve from interacting with you. You should fill out consultation invoice forms based on the selected rate type.

Consultancy Payment Terms
Any consulting invoice examples involve receiving payment after certain services have been provided, or once a week, month, quarter, and so on (depending on your arrangements). Once you've sent a bill to clients, they have a certain amount of time to compensate you for the work done. You can specify the deadline with an exact date, or you can use the traditional term "Net …", where instead of an ellipsis, you indicate the number of days (7, 30, 90, and so on) during which the money should be credited to your account.
You can also give customers a discount if they pay as early as possible. Such an option is indicated, for example, as follows: "2/10 Net 30". This phrase means that a payer will receive a 2% discount if they transfer funds to you in the first ten days, and they have 30 days to do so. Giving discounts increases customer loyalty and the likelihood that they will return to you. At the same time, to protect yourself from possible delays, you can also set a late payment fee. Professional independent contractor invoice templates have a separate block where you can describe all your terms.
By the way, some how-to-bill-for-consulting-services sample tutorials suggest that professionals use the compensation method based on results. Under this approach, a portion of your payment is withheld until your work produces certain results. For example, profits will grow to certain levels, or the number of regular customers will increase. After that, you receive the remaining sum. The percentage of such a fee depends on what heights orderers can achieve thanks to your advice.
Also, your payment terms should include the ways in which customers can transfer money to you. The SaldoInvoice templates allow you not only to choose among the proposed options but also to add your own so that they are convenient for both you and your customers.
A variety of invoice formats are also available for the convenience of the client; a good example is the excel invoice template. Pick a template that is appropriate for your needs and has a look that matches the branding of your business.

What Is an Invoice for Consultant Services?
Billing as a consultant means the ability to create and fill out payment papers correctly. An invoice is your main document for receiving compensation for completed orders. It should look professional, be well structured, and contain all the necessary data about a customer, contractor, and services. You can create it yourself, but it's better to use invoicing software and ready-made templates to streamline the workflow.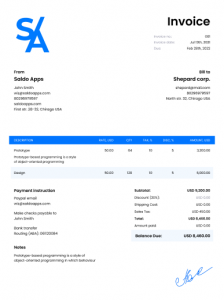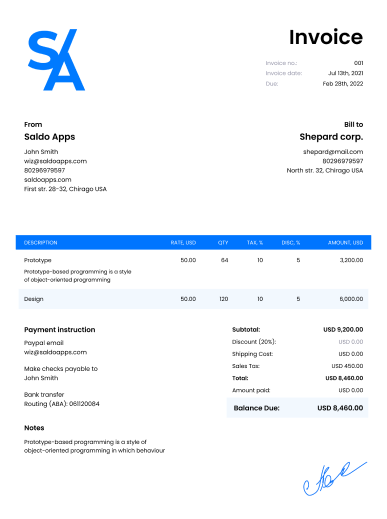 A distinctive feature of your advisory activity is hourly payment (as a rule). It means that you should use a timer to keep track of the amount of time you spend working. It is recommended to discuss with a client whether it is possible to round results, for example, up to 15 minutes or half an hour. Instead of capturing data by hand, better use trackers and transfer records from them into templates. They will make your task much easier.

Please note that one professional may provide various services at different rates. It means you need to collect information on each of them separately. Each type of work (collection of information, analytics, and so on) should have a separate line in your invoice with the corresponding rate.

An invoice sample can be a useful tool for businesses and individuals when creating an invoice.
Steps to Create an Invoice for Consultants
If you are unsure
how to bill for consulting services, the sample
will help you. Follow our step by step instructions how to bill as a consultant:
Record working time. In the process of providing services, you should monitor and record the hours spent. You will need to enter this information in a bill.

Use a template. You can fill out our forms in the app, on the website, or download them to your device. Thanks to us, you have the opportunity to do it literally on the go.

Enter the required information:

invoice ID, file creation date, and payment deadline;

contact details of you and your client;

itemized list of the services provided, hours spent, rates, and fees;

available payment methods and your terms;

amount payable including taxes, discounts, and delivery costs;

notes and tips to help clients pay faster.
Saldo Invoice allows you to create invoices in several formats, including a
Microsoft Word invoice template.
Preview the file to make sure there are no errors or typos. Carefully check all data, as mistakes might lead to inconsistencies and disputes.

Hand over the document to customers. If everything is ok, you can submit the form via email or link. If necessary, you can also download it locally or print it. If you wish, you can prepare it in advance and save it to send it later.
We hope our simple consultancy tips will help you figure out how to bill clients and create invoice when providing advisory services. Whatever industry you work in, we will supply you with all the necessary invoicing tools.
What is a consultancy invoice?

A consultancy invoice is a document that is provided by a person who provides an expert consultation service for a fee.

How to invoice as a consultant?

Make sure you fully indicate the services provided and the amount of time you have pledged, as well as the cost of your work per hour, so that the client clearly understands what services should be paid, as well as the invoice payment terms for a clear understanding of agreed conditions.

How do I make a consulting invoice?

Any consultant invoice sample consists of the following points:

An identification number and issue and due date.
Your or your company data. Information about a client.
A list of services provided.
The total sum, which is calculated automatically based on the listed items and the specified fees, taxes, discounts, and shipping costs.
Payment methods.
Notes. Leave detailed recommendations, advice, or comments to a recipient to make it easier for them to process your docs.
Your sign.
Related Templates
Law Invoice Template

You May Also Like

Get expert tips on setting retainer fees that are fair and reasonable.

Saldo Invoice provides a step-by-step guide to ensure you get reimbursed quickly and hassle-free.

Speculative work definition, cover its benefits and drawbacks.