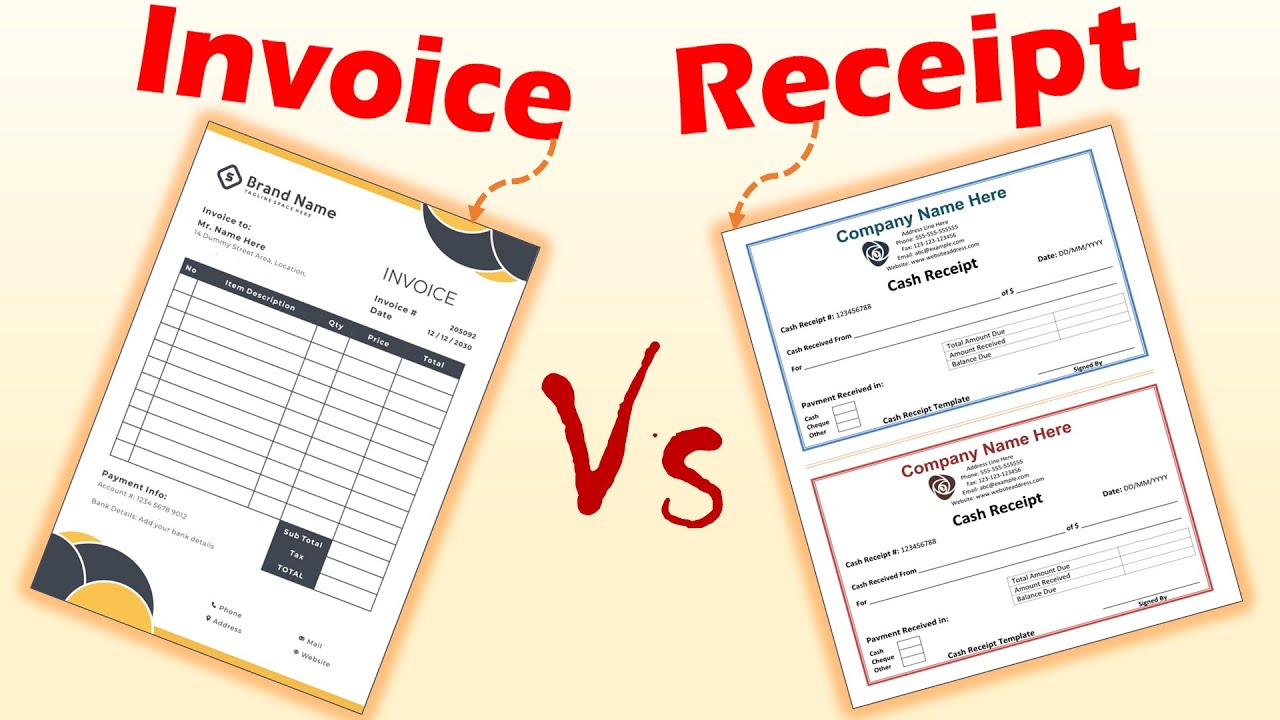 What Is the Difference Between Invoice and Receipt?
Small and large businesses need to maintain correct and clear documentation. It's especially true for sales and transactions, which should have a written confirmation. As a freelancer and self-employed, you do paperwork on your own. You need to navigate in business terms. In this article, you'll learn the receipt template and invoice definitions and understand when to send each of them.
What Is a Receipt
Receipts are one of the most common documents in our daily life. Every day, you make purchases in stores or on the Internet and receive proof of payment. Unlike other forms, the receipt of sales is issued to a buyer after they've deposited money for goods or services. They can be written out on paper or electronically. These files are essential for entrepreneurs and their customers to solve accounting issues and control budgets. They can also help resolve conflict situations.
If you compare a sample of invoice and receipt, you'll see that the second is less detailed. There are no special requirements for it regarding the availability of specific info. However, remember that the more data in it, the faster you can resolve controversial issues. So, what should be in a receipt? Typically, it includes: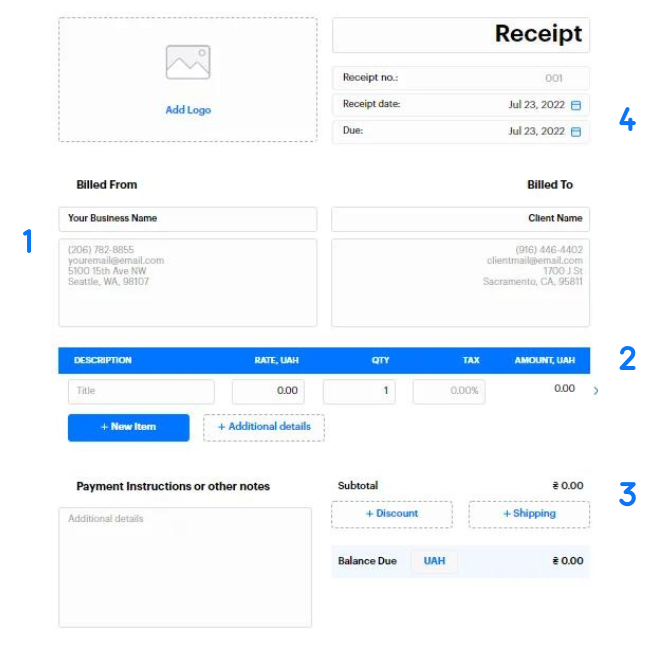 details of your company;
list and cost of purchased products and services;
the total sum, including discounts and taxes;
the date of purchase.

If you wish, add a payment method and brief information regarding the return of goods here. As you can see, payment and receipt are related to each other.
What an Invoice Should Look Like
Now that you know how to write receipts for payment let's move on to invoices. Unlike the previous item, they are issued as a request for compensation after an order has been done. After receiving it, a client should transfer the agreed amount to the contractor's account within the specified time frame. To make even complex invoices easy use invoice template google sheets.
Is an invoice the same as a receipt? No, invoices are official docs, which are pretty strict in some countries. If you work with foreign orderers, clarify what you need to include in a document to comply with local laws. When creating securities using Invoice Maker by Saldo Apps, provide the following information: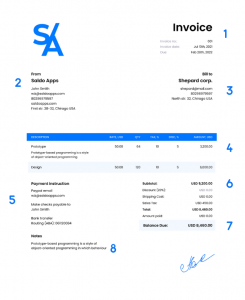 file creation date, ID, and payment terms;
info about your business and logo;
contact details of a customer;
complete list of items and services, price per unit or hour, quantity, and discounts (percentage or fixed);
available payment methods;
taxes and fees;
the total sum;
notes, tips, manuals, and guides (optional).
What is the invoice number on a receipt? The invoice number (or ID) is indicated in a receipt so that both parties involved know what exactly the money was paid for. It's important information for bookkeeping, accounting, and tax reporting ?
What are the terms of invoice payment ? Your clients should be informed up front about your expectations for their payment and the available payment options by reading the information you include on your blank invoice template.
Receipt vs. Invoice — When to Use
As you can see, an invoice and receipt are really different in terms of content and purpose. Despite this difference, both of these forms are required for your company to function properly.
Invoice vs. Receipt
A request for payment
Proof of payment
Before payment is made
After payment is made
Explains to clients how much they owe and when that money is due
Legal proof that a customer paid for the purchase of a product or service
As part of a contract with a client, you provide them with services or products in the agreed amount and for a specified cost. After completing an order (or a certain stage of it), you should use PDF, Excel, or Word templates for invoices. So you record the fact that items were rendered and officially demand compensation from a customer.
In turn, an orderer, after receiving an invoice, should transfer the total amount within the time specified in a paper. After getting money, provide them with a receipt as proof of payment. You can send it to them electronically or on paper. If you have lots of clients, manually doing it might be tricky. It's better to simplify your task by using automated systems that send documents after receiving compensation.
Differences between Invoice and Receipt
Understanding the differences between an invoice and a receipt is essential for effective account management and ensuring accurate financial records. These two documents mainly differ in their content, purpose, and the time they are issued.
The invoice is a legal document provided by a seller to a buyer before the payment is made. It's essentially a bill detailing the transaction's terms, including the cost of the goods or services rendered, due date, and payment methods. On the other hand, a receipt serves as a confirmation document, proving that the transaction has occurred and payment has been made.
When to Use Invoice and When to Use Receipt
Identifying the right situations to issue an invoice or a receipt can help maintain a smooth transaction flow and ensure appropriate documentation.
An invoice is typically required:
When a transaction agreement is set, but the payment is yet to be made
When itemizing the goods or services provided, along with their costs
When outlining the payment terms and methods
Creating a receipt becomes crucial:
Once the payment for the provided goods or services is received
When providing proof of purchase for warranty or return purposes
When keeping track of sales for inventory or auditing purposes
By utilizing invoices and receipts appropriately, businesses can maintain robust financial records, support transparent communications with customers, and comply with legal requirements.
The Importance and Preservation of Bills and Receipts
The preservation of invoices and receipts goes beyond just keeping a record of transactions. These documents play a significant role in accounting and taxation, providing the necessary evidence for revenue and expense claims. They also help in reconciling accounts and managing budgets effectively.
For businesses, it's best to develop a robust system for organizing and maintaining these documents. Here are a few practical tips:
Digitize invoices and receipts using tools like Google Drive or Dropbox.
Establish a filing system categorized by date, client, or project.
Ensure regular backups of digital files to avoid data loss.
Understanding the difference and the correct usage of an invoice and a receipt is integral to keeping accurate financial records and meeting legal requirements. It also aids in providing transparency for all parties involved, ensuring smoother business transactions.
Can I make a receipt using Saldo Invoice?

Yes, we have many templates for your documents in PDF, Word, Excel, Google docs and Google sheets formats. Find the one you need

right here

.

Should I put the clients' data in the receipt or invoice?

You may not add information about a customer to a receipt, but if you do, it will come in handy to resolve controversial issues. Ensure to add complete information about a customer in an invoice since invoices are official papers, and in some countries, this point is mandatory.

Can I use a receipt for a provided service?

Yes, you can, but providing service before paying may not be good. We recommend using an invoice. It's all the better if you make a safe agreement. You also can read how to write an invoice for service in our

blog

.
Related Templates
PDF Invoice

You May Also Like

Creating a Comprehensive Purchase Order Template in Excel Purchase orders (POs) serve as official documents…

Excel Purchase Order Template: Streamlining Procurement Processes As the world of business transactions becomes increasingly…

Collaborative Estimating With Google Sheets Templates The success of any project relies on effective collaboration…